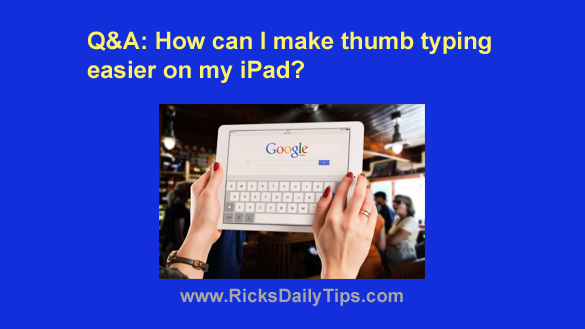 Question from Pauline:  I have a question for you Rick.
I've been using a 7 inch Android tablet for my Facebooking but the battery recently went bad in it.
Instead of buying another Android tablet I decided to try an iPad. I ended up buying a 10.9 inch model which is a bit larger than what I was used to.
I didn't know what to expect because I'd never owned anything from Apple before, but I found out that I really love it.
I'm having one problem though. I could hold the 7 inch tablet by its sides and type with my thumbs, but I can't do that with the larger iPad because the keys are spread out too far.
Do you know if there's a way to make it easier to type on my new iPad using my thumbs? Maybe by using an app, perhaps? 
Rick's answer: There are lots of keyboard-related apps available for the iPad, Pauline, but the good news is you don't really need one to solve your thumb-typing problem.
Your iPad has a nifty feature called "Split Keyboard" that was designed just for thumb typists like you and me.
"Splitting" the keyboard makes the keys slightly smaller, but it also places them into two separate groups located near the right and left edges of the screen. That makes it a lot easier to thumb type without having to stretch your fingers to the max.
I'll be the first to admit that it takes a little while to adjust to using a split keyboard, but once you do I believe you'll love it.
Just follow the steps below to enable the Split Keyboard feature on your iPad so you can give it a try.
The first thing you need to do is enable the Split Keyboard feature in the system settings:
1 – Tap the Settings icon.
2 – Tap General.
3 – Tap Keyboard.
4 – Toggle the Split Keyboard setting to On.
Now it's time to actually split the keyboard:
1 – Open any app that has a text input field. (Note: The Google web page will work just fine!)
2 – Tap inside that text field.
3 – Touch and hold the little keyboard icon, then slide your finger until the keyboard splits.
4 – Release your finger.
That's all there is to it. Your iPad's on-screen keyboard should now be split into two parts, with one part on each side of the screen.
If you ever decide to make the keyboard whole again simply follow the steps below:
1 – Tap inside a text field.
2 – Touch and hold in the lower-right corner of the keyboard.
3 – Slide up and then tap Merge.
Pretty easy, right? I think you'll really like using your iPad in Split Keyboard mode.
I hope this helps, Pauline. Good luck!
Update from Pauline: Perfect!!!! Thank you so much!
---