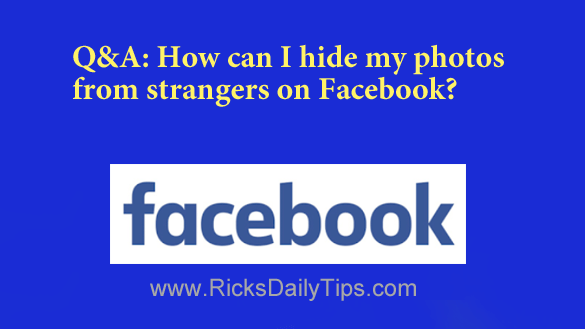 Question from Kate:  Can you tell me how to hide my photos from people who are not friends with me on Facebook?
I know I can see how my page looks to people who are not friends and it still shows my photos. Thank you!
Rick's answer:  Kate, you can easily make your photos viewable only by your friends by making a couple of changes to your privacy settings. Just follow the steps below for the device you're using.
If you're using a laptop or desktop computer…
1 – Log in to your Facebook account.
2 – Click your tiny profile photo avatar located on the right side of the Menu bar at the top of the Facebook window.
3 – Click Settings & Privacy.
4 – Click Settings.
5 – Click the Privacy link over in the left-hand column.
6 – Click the Edit link on the right-hand side of the line that reads "Who can see your future posts".
7 – You should see a button labeled "Public" (or something besides "Friends"). Click that button and select Friends from the drop-down menu.
That takes care of the photos and other entries that you will post in the future. Now we'll change the setting that controls your existing posts and photos to make the change retroactive:
1 – Click the Limit Past Posts link that's on the right just below the setting you just changed.
2 – Click the Limit Past Posts button and then read the warning message that pops up. If you're sure you want to proceed, click Limit Past Posts.
If you're using a the Facebook app on a mobile device…
Note 1: When using the Facebook app you'll need to change the privacy level of each post as you create it. Just tap the Public button and select Friends, then finish creating your post or uploading your photo.
Note 2: The steps below to limit who can see your existing posts might vary just a bit depending on the type of mobile device and version of the Facebook app you're using. Therefore, you can just use the steps below as a general guide.
1 – Launch the Facebook app and log in to your account.
2 – Tap your tiny profile photo avatar in the corner of the screen .
3 – Scroll down and tap Settings & Privacy.
4 – Tap Privacy shortcuts.
5 – Tap See more privacy settings.
6 – In the "Your Activity" section, tap Who can see your future posts? and change that setting to Friends.
7 – Tap the Back button (the left facing arrow) and tap Limit who can see past posts.
8 – Tap Limit Past Posts.
9 – Confirm your selection by tapping Limit Past Posts again.
That's all there is to it Kate. Your photos (and all of your other entries too) should now be viewable only by the people who are friends with you on Facebook.
Update from Kate:  Yaaayyyyy! I did it! lol Thank you again!
Bonus tip: Privacy is obviously very important to you Kate, and it's wise to do everything we can to protest it as much as possible.
But that being said, in reality true privacy simply doesn't exist on Facebook. Read this post to find out why.
---