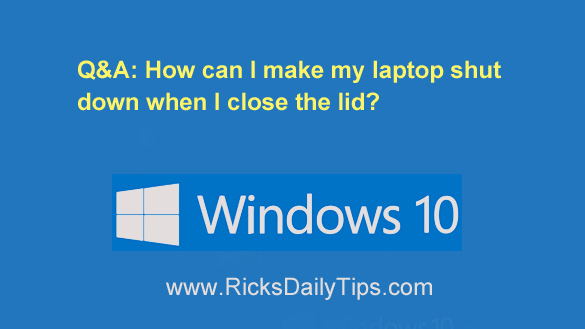 Question from Betty:  I have an Acer laptop that came with Windows 8.1.
I updated it to Windows 10 and now I'm having a problem with it.
When I finish using the laptop I can click the Shutdown icon and it shuts down just fine.
The problem is if I close the lid it doesn't shut the laptop down like it did when it had Windows 8.1. It goes into Sleep mode instead.
Is there a way to force this my laptop to shut down automatically when I close the lid? 
Rick's answer:  There sure is, Betty. And just for the record, I have mine do the same thing!
You can easily force your laptop to shut down every time you close the lid by making one simple tweak to the "Power Options" settings. Just follow the steps below:
1 – Click the Start button and type the word Power.
2 – Click Power & sleep settings.
3 – Click Additional power settings.
4 – Click Choose what closing the lid does over in the left-hand column.
5 – Find the line that says "When I close the lid:" and change both options to Shut down.
6 – Click Save changes.
That's all there is to it. You can still shut your laptop down by clicking one of the shutdown options with your mouse, but you should now be able to shut it down simply by closing the lid.
I hope this helps, Betty. Good luck!
Bonus tip: you're looking for a great book that's filled with tons of Windows 10 tips and tutorials, I recommend that you check out Windows 10: The Missing Manual (#ad). It's an excellent resource for learning the ins-and-outs of Windows 10!
---