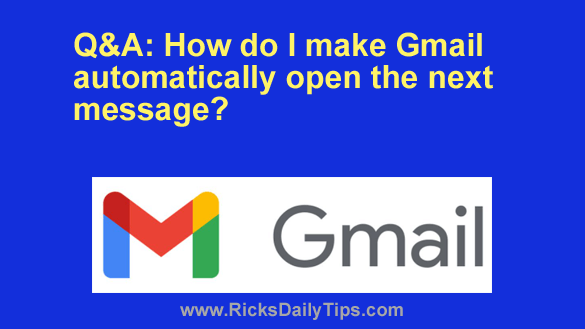 Question from Manuel:  First of all, I really like your newsletter Rick. I've learned a lot from you.
I have a question that I haven't seen you address before.
When I delete a message in Gmail it automatically takes me back to the Inbox. How do I make it automatically open the next message instead? 
I know you can do this because I've seen it, but I can't figure out how to get it to work.
Rick's answer:  You're right, Manual. Gmail does indeed have a setting that will force the next message to be displayed immediately after you delete the one you're viewing.
It's called "Auto-Advance" and it's actually very easy to enable. Just follow the steps below for the device you use to access Gmail.

If you use Gmail in a web browser on a laptop or desktop computer:
1 – Open Gmail in your web browser and sign in to your account.
2 – Click the Settings icon (it's the "gear" shaped icon on the right side of the top menu bar).
3 – Click See all settings.
4 – Select Advanced from the top Settings menu.
5 – Toggle the "Auto-advance" setting to Enable.
6 – Click the Save Changes button.

If you use the Gmail app on a mobile device:
1 – Open the Gmail app and sign in to your account.
2 – Tap the Options icon at the top of the screen (it looks like three horizontal lines).
3 – Scroll down and tap Settings.
4 – Tap General settings.
5 – Scroll down and tap Auto-advance.
6 – Select Older from the options listed.
7 – Press the Back button repeatedly until you have excited the "Settings" screens.

That's all there is to it. From now on when you delete a message in Gmail the next message in your Inbox will automatically open without you having to click (or tap) on anything.
---