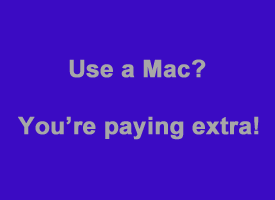 Are you a Mac user who shops online? If so, you probably end up paying more than Windows users when shopping for the same products and services.
Want proof? The travel site Orbitz recently disclosed to the Wall Street Journal that Mac users tend to spend 30% more when booking hotel rooms than Windows users.
What's more, in order to help them spend that extra cash, the site checks to see which web browser the customer is using and adjusts the prices of the rooms that he/she is offered accordingly. If Orbitz detects Apple's Safari browser, they'll offer rooms with prices that are approximately 30% higher than would be offered to Internet Explorer users.
And Orbitz isn't alone in their use of selective pricing. Some of the largest commercial websites on the Internet do the very same thing. Personally, I don't use a Mac. But if I did I'd keep a windows PC handy just for shopping on the web! If you'd like to read the Journal article for yourself you'll find it right here.