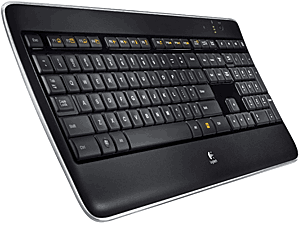 Note: The links in this post are affiliate links.
If you do a lot of typing, the keyboard is arguably the most important part of your computer.
It's also one of the most neglected parts when it comes time to buy a new PC.
The truth is, we don't usually give the keyboard much thought until we get a new computer home and begin typing on it.
If your current keyboard is acting flaky or you just don't like the way the keys feel and respond to your touch, you might want to strongly consider replacing it with a better model. 
In my opinion, Logitech's Wireless Illuminated Keyboard K800 is an excellent choice as an alternative or replacement keyboard for your computer.
The Logitech K800 has everything you're likely to need in a full-size keyboard. First of all, it's wireless, which means you can use it with your laptop without having to bother connecting a cable every time you turn around.
Also, there are no disposable batteries to throw away and replace. The built-in rechargeable batteries will keep your keyboard humming along for up to 10 days, then you can simply plug the keyboard into an empty USB port to recharge them.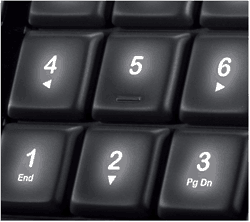 Another great advantage offered by the K800 are the brightly backlit keys. You can literally type in the dark with this keyboard, even if you hunt-and-peck like I do!
And since the backlit keys make using this keyboard such a joy to use in the darkness, you'll love the virtual silence of the key presses while others are trying to get some sleep.
While this is the perfect keyboard for laptop users who hate trying to touch-type on a small laptop keyboard, it also makes an outstanding replacement keyboard for desktop PCs. You can even use it with multiple computers simply by switching the tiny USB receiver unit from machine to machine.
I really like the feel of this keyboard. The keys are perfectly spaced and contoured, and I find myself making fewer typing mistakes when I'm using it. And trust me, I'm the undisputed typo king!
The only real downside to the Logitech K800 is the size. Since it's a full-size keyboard, it wouldn't be a great choice for those who want to carry an external keyboard along in their laptop case. But for everyone else, it's simply perfect in my opinion.
Bottom line: If you're looking for a highly functional alternative keyboard for your laptop or a replacement for your clunky desktop keyboard, I believe you'll be well served by the Logitech K800.
Click here to read more about the Logitech Wireless Illuminated Keyboard K800 on Amazon, including over 6,500 overwhelmingly positive user reviews.
Bonus tip: Want to make sure you never miss one of my tips? It's easy! Just…
Click here to sign up for my free Rick's Daily Tips Email Newsletter!
---
Would you like to ask Rick a tech question? If so, click here and send it in!
If you found this post useful, would you mind helping me out by sharing it? Just click one of the handy social media sharing buttons below. Thanks a bunch!