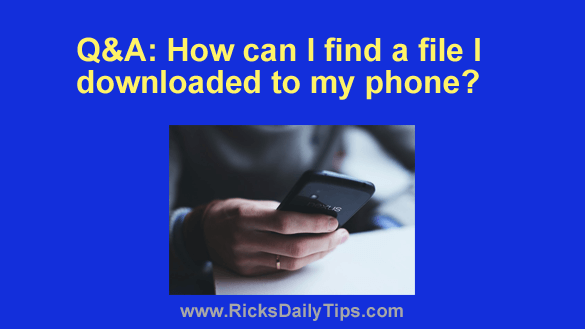 Question from James:  A couple of nights ago I downloaded a whitepaper to my Android phone from one of my favorite websites but I can't find the downloaded file.
I believe it's on my phone somewhere because it said is downloaded successfully.
Can you tell me where to look for it? 
Rick's answer:  You're right, James. That file should definitely be on your phone.
The thing is, finding downloaded files on an Android device isn't as easy as finding them on a Windows PC or Mac.
Like most other computing devices, your Android phone has a Downloads folder and that's where you'll find the "missing" file.
What you'll need to do is open your phone's file manager app, then tap on the Downloads folder to access the file. But here's the tricky part…
Unfortunately, not all Android devices use the same file manager app.
Some devices use Google's own Files by Google app. Others come with an app that's simply named Files.
Still others use an app that's called either File Manager, My Files or Downloads.
What you'll need to do is swipe up from the bottom of your phone's Home screen to open the "Apps Drawer", then scan that screen for an app with one of the names I mentioned above.
Once you find your phone's file manager app, simply open it and tap on the Downloads folder. You should find the downloaded file at (or near) the top of the list.
I hope this helps, James. Good luck!
Update from James:  Thanks, Rick. My phone has the "Files by Google" app. I opened it and found the whitepaper I downloaded right away. I really appreciate your help.
---