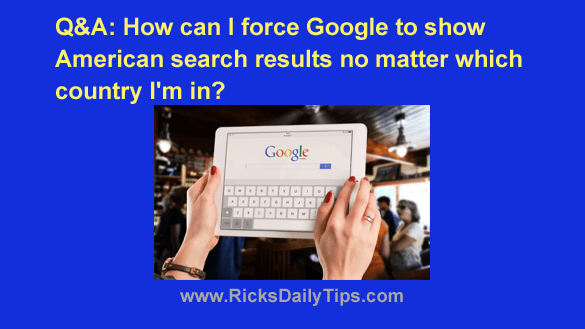 Question from Brett:  I need your help with something if you don't mind, Rick.
I travel frequently on business, often to other countries (mostly to western Europe but occasionally to South and Central America as well).
The problem I'm having is every time I click on my bookmark to load Google it takes me to the Google site for whichever country I'm in at the time.
I really need for my browser to load the Google search results for the United States at all times because only those results are relevant to the research I do for my job.
Do you know of a way to force Google to always show the American search results no matter which country I'm in at the time? 
Rick's answer:  I can see why that could be a great source of frustration for you Brett.
As luck would have it, it's actually very easy to coax Google into always displaying their American search results.
All you have to do is change the "Region" setting from Current Region to United States. Just follow the steps below for the device you're using.
If you use Google on a laptop or desktop computer:
1 – Click the Settings link located in the lower-right corner of the window.
2 – Click Search Settings.
3 – Scroll down the the "Region Settings" section and then click Show more.
4 – Select United States.
5 – Click the Save button.
If you use the Google app on a mobile device:
1 – Tap your profile picture avatar in the corner of the screen.
2 – Tap Settings.
3 – Tap Language & region.
4 – Scroll down and select United States.
That's all there is to it. From now on when you're traveling you'll always be provided with American search results whenever you're logged into your Google account.
This is easily reversible by the way. All you have to do is repeat the steps you followed above and change the setting back to Current Region.
I hope this is a help to you, Brett. Good luck!
Update from Brett:  Thank you, thank you, thank you!!!! That's exactly what I needed!
Bonus tip: Since you travel a lot you might like this post. It explains how to use Google to instantly get the current local time for virtually any city, town or locality on Earth.
---