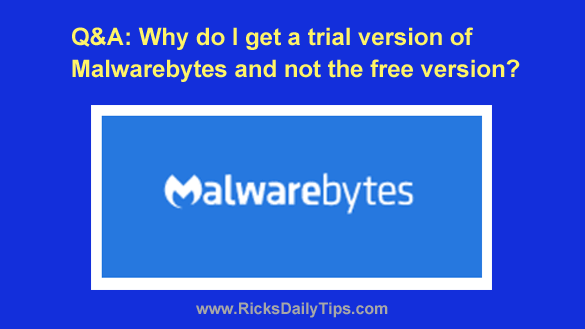 Question from Martha:  Hi Rick. I need your help with the Malwarebytes download.
I tried downloading 'Malwarebytes Free' by clicking the Free Download button on this page but it installs a 14 day trial version instead.
Am I clicking the wrong thing to download the free Malwarebytes? Or maybe I'm doing something wrong?
Or does Malwarebytes not even come with a free version (which would be a bait and switch in my opinion)?
Any help you can give me with this will be greatly appreciated. Thanks so much!
Rick's answer: You're actually clicking the right button, Martha. And yes, clicking that button will indeed let you use Malwarebytes for as long as you want without having to pay a cent.
What is all boils down to is this: The free version and the trial version of Malwarebytes are basically one and the same!
This is how the free Malwarebytes download process works:
1 – You click the Download Free button to download the Malwarebytes installation file onto your PC.
2 – When you run the installation file it installs the 14 day free trial of the full-blown (paid) Malwarebytes program.
3 – At the end of the 14 day trial period you're prompted to make a decision: Would you like to pay for the upgrade so you can keep using the full version or would you prefer to go with the free version as you originally planned?
4 – You make your choice between the two options given.
If you like the full version you can pay the upgrade fee and the installed trial version will will be replaced by the full-blown Malwarebytes program. You'll then be prompted to renew your subscription after one year has elapsed.
If you choose to use the free version of Malwarebytes, the trial version will automatically revert to the free version. You won't have to do a thing on your end.
You'll then be able to use the free version of Malwarebytes as long as you want without ever having to pay a cent for it.
Note: If you decide to stay with the free version you'll still receive periodic invitations to upgrade to the paid version. All you have to do is decline the offer every time it shows up and you'll be able to keep using the free version like you always have.
Bottom line: The download procedure for Malwarebytes Free is indeed a little confusing, but you'll definitely end up with the free version after all is said and done (unless you decide to accept their offer to upgrade, of course).
Bonus tip: This post explains why you should occasionally ask for a second opinion when your antivirus scan says your PC is malware-free.
---