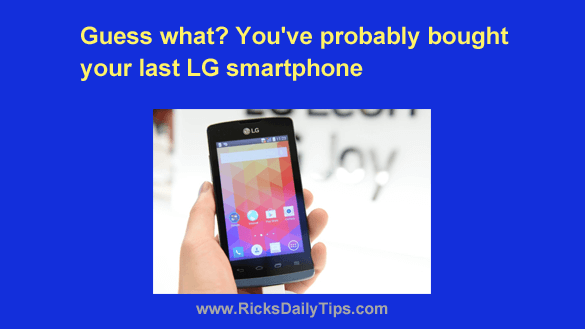 South Korean electronics giant LG has just announced in a press release that they're planning to exit the smartphone business as of July 2021.
What does this mean for LG customers?
Well, there will still be some LG phones available for purchase at various retailers after July, but no new devices will be manufactured after that time.
LG is saying they'll continue to provide service, support and software updates for existing LG devices for a period of time. That's the good news.
The bad news is they haven't disclosed how long that period of service and support will last, only that it will vary by region.
If you already own an LG phone chances are it'll be supported for a least a while past July, but I wouldn't count on it lasting throughout the useful life of the phone.
If you've been considering the purchase of a new LG phone I would strongly recommend that you choose a different brand.
After all, you don't want to get stuck with a brand new phone that was effectively abandoned by its manufacturer just a few months after you acquired it.
Of course if you're the adventurous type who places more importance on price than service, this could be a great opportunity to get a really good phone at a deeply discounted price.
We'll just have to wait and see how the market shakes out.
If you've been following the smartphone industry for a while this news probably doesn't come as a surprise to you.
LG had been losing tons of money on their smartphone business for years, and that's a real shame because they're actually great devices. I've owned several LG phones over the years and I loved them all.
Bottom line: Come July there will be no new LG phones coming off the assembly lines. If you're a fan of LG products you'll need to plan your next phone purchase accordingly.
---
Never miss a tip!  Click here to sign up for my free Daily Tech Tips Email Newsletter!