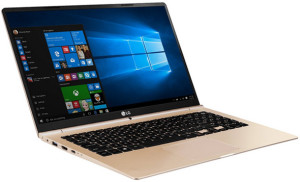 In my humble opinion, a modern laptop should be blazing fast and have a large screen, yet be comfortably light and compact.
The computer manufacturers are getting better at designing machines that meet this goal, and whenever I see one that looks promising I'm always eager to spend some time checking it out.
I recently had the opportunity to put the new LG gram 15Z960 i7 15.6″ laptop through its paces, and while it isn't perfect (does a "perfect" laptop even exist?), I found it to be a very good machine that easily meets the fast CPU/large screen/lightweight/compact criteria mentioned above. 
First of all, let me tell you about the speed. This is one FAST laptop thanks to its Intel Core i7-6500U 3.1 GHz CPU, 8GB of DDR3L SDRAM and 512 GB Solid State Drive (SSD).
Put simply, everything I did with this laptop was lightning-fast! Even the largest programs open in a flash, and there is virtually zero lag time when launching modern apps, opening menus and conducting other common computing tasks.
While there are laptops with larger screens, the 15.6 inch full HD IPS display in this one seems larger than it's size due to the narrow bezels along the sides and at the top. The screen is virtually as big as the laptop itself, making it a true joy to use.
I was very impressed with the way the folks at LG managed to pack that large screen and all of that computing power into such a compact and light magnesium alloy case.
At just a hair over 2 pounds, this little jewel is easily one of the most powerful laptops you'll find at such a light weight. You can comfortably hold it in your hand or carry it around for hours in a backback without having to worry about getting fatigued.
Of course there's a lot more to the LG gram 15Z960 than just its blazing speed and light weight. You also get plenty of connectivity options including ports for HDMI, USB 3.0 (2), USB 2.0, microSD, and even the new super-fast and flexible USB-C.
As one would expect in a brand new laptop in 2016, it comes with Windows 10 pre-installed. I consider Windows 10 to be the best version of Windows ever, and not having to upgrade from a previous Windows version is a big plus in my book.
As I mentioned above, no laptop is perfect, and that includes this one. For example, I found that both the keyboard and the pointing device required a little getting used to. And while it isn't terrible for a laptop with these specs, the battery life could be better.
Bottom line: If you're looking for a super-fast laptop that's compact and light, yet has a screen that's large enough to actually use for extended periods of time, I believe this machine from LG is well worth your consideration.