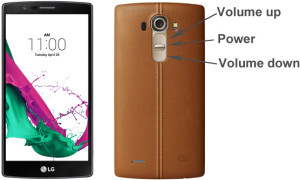 I received three emails yesterday from folks wanting to know how to reset their LG G4 smart phones back to their factory default settings.
I don't know yet whether there is something going on with the G4, but I thought I should write a post explaining how to reset it just in case. All you have to do is follow the steps detailed below. 
Note: I like to refer a factory reset as "the nuclear option" because it will wipe out all of your phone's custom settings. If your phone becomes unresponsive, I recommend trying a "soft reset" first to make sure the issue isn't being caused by a temporary glitch.
To perform a soft reset, simply press and hold the Power button until the phone powers down.
If the problem occurs again after performing a soft reset, you can go ahead and follow through with a factory reset. There are two ways to accomplish a factory reset depending on whether your G4 is up and running or powered off:
If your phone is powered off…
1 –  Simultaneously press and hold the Power and Volume Down buttons until the "System Recovery" menu appears on the screen, then release the bottons.
2 – Using the Volume Down button, scroll down to the "Factory data reset" option, then press the Power button to select it.
3 – Select Yes to confirm that you want to reset the phone back to its factory defaults.
If your phone is powered up and responding to your taps and swipes…
1 – Tap the Apps icon.
2 – Tap the "gear" shaped Settings icon.
3 – Tap Backup & reset.
4 – Tap Factory data reset.
5 – Tap Reset phone.
6 – Tap Delete all.
7 – Tap OK.