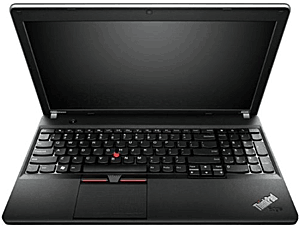 I'm often asked if it's still possible to buy a new PC that comes with Windows 7, and the answer is yes. A perfect example is the excellent Lenovo ThinkPad Edge E545 20B20011US (#ad) laptop.
Actually, this laptop gives you a choice between two operating systems: Windows 7 or Windows 8.1.
It comes with Windows 7 Pro pre-installed, but it also comes with a Windows 8 installation DVD and license. You can always replace Windows 7 with Windows 8 at no additional charge, then update Windows 8 to Windows 8.1 for free.
But the flexibility you get in terms of the operating system isn't the only great thing about this machine. The hardware is quite capable (and expandable) as well. In a nutshell, this is what you get: 
2.9 GHz AMD Dual-Core Accelerated Processor (A6-5350M)
AMD Radeon HD 8450G Graphics
4 GB DDR3L-1600/PC3-12800 SDRAM (expandable to 16GB)
320GB Hard Drive
DVD Burner
15.6″ HD Color Anti-Glare LED Backlight Display
Spill-Resistant Numeric Keyboard
Multi-Touch Touchpad
802.11b/g/n Wi-Fi
Gigabit Wired Ethernet Port
Built-in Webcam
3 USB 3.0 ports
2 USB 2.0 ports
Powerful 6-Cell Li-Ion Battery that provides up to 6.2 hours of battery life
1 Year Manufacturers Warranty
The only real weakness here is the relatively small 320GB hard drive, but you can easily augment that storage space with a massive (and relatively cheap) external USB 3.0 hard drive should the need ever arise.
All in all, this machine is a fantastic option if you're in the market for a quality laptop that still comes with Windows 7.
Click here (#ad) to read more about the Lenovo ThinkPad Edge E545 20B20011US 15.6-Inch Laptop at Amazon, including hundreds of informative user reviews.