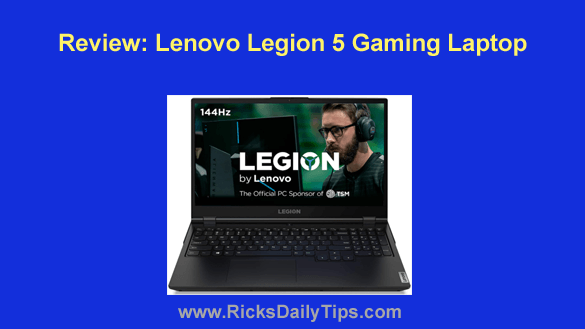 Note: The links in this post are affiliate links.
Most gamers have long preferred desktop gaming PCs over gaming laptops because of their superior power and upgradability.
However, recent advancements in CPU and video technology have reduced that gap quite a bit.
A great case-in-point is Lenovo's new Legion 5 Gaming Laptop.
As you can see from the specs, this machine offers plenty enough power right out of the box to rival most upper-mid-range desktop gaming PCs:
15.6″ FHD (1920×1080) IPS Screen
NVIDIA GTX 1660Ti with 6GB dedicated graphics RAM
HDMI connector for use with an external monitor
HD 720p Webcam with Privacy Shutter
2 x 2W Harman Kardon Speaker System
8-core AMD Ryzen 7 4800H Processor
16GB DDR4 RAM
512GB SSD
Four USB 3.1 Gen 1 ports
Bluetooth 5.0
2×2 WiFi 6 (802.11 ax)
Gigabit Wired Ethernet port
Windows 10 Home Edition
As you can see, there's plenty to love in there.
This machine boots up into Windows in a flash compared to most everyday laptops, as one might expect of a laptop with a super-fast Ryzen 7 CPU and SSD.
The screen is ultra-sharp and responsive, even when running the most demanding of games.
The keyboard is a joy to use, with the touch and responsiveness I've come to expect from high-end gaming machines.
Overall I'm extremely impressed with the performance. In fact, if that's your primary requirement you'll be hard-pressed to find a better gaming laptop in this price range.
However, everything I said above being said, all is not perfect…
For starters, the CPU tends to run hot even when it's idling under a low-to-moderate load. And it tends to get even worse in the middle of intensive gaming sessions.
The heating issue doesn't seem to be caused by poor air flow because plenty of air is being moved through the system and out the vents by the fans.
I would strongly recommend that you invest in a high-quality laptop cooler if you plan to make extensive use of this machine for gaming (which of course is a gaming laptop's intended purpose).
Another issue is the WiFi tends to disconnect at random times. In fact, it disconnected three times during a single two-hour gaming session. And in case you're wondering, driver updates don't seem to help.
Bottom line: The Lenovo Legion 5 is a true beast if raw performance is your primary desire in a gaming laptop.
However, if system stability is your most important consideration (and it really should be) you'd probably be wise to consider a different machine.
---
Never miss a tip!  Click here to sign up for my free Daily Tech Tips Email Newsletter!