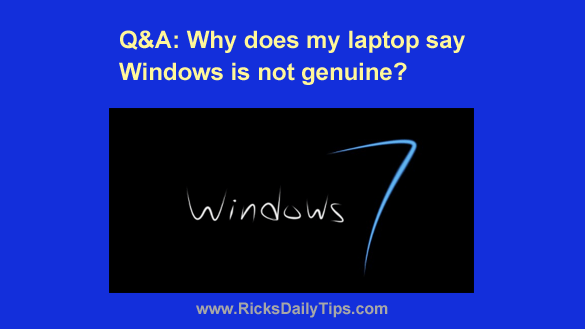 Question from Liam:  My wife and I recently went to a flea market to look for some things for our house.
I ended up buying a used Lenovo ThinkPad T400 with Windows 7 on it.
It's obvious that it's a pretty old laptop but it seems to work well.
I didn't notice it when it was running at the flea market but there's a message in the corner of the screen saying "This copy of Windows is not genuine".
What does that mean? Is it a problem? Like I said, everything seems to work ok.
Rick's answer:  The ThinkPad T400 was an awesome laptop when it was released back in 2008, Liam. It was a true workhorse of a machine!
Unfortunately, there are a couple of very serious issues with your particular T400's Windows 7 installation:
1 -The most likely reason you're seeing that "not genuine" message is the Windows 7 that's on there is an illegal bootleg copy of the operating system.
The ThinkPad T400 was originally released with Windows Vista, not Windows 7.
Although I have have no way of knowing for sure, I have a strong suspicion that the owner of that laptop somehow managed to acquire a bootleg "non-genuine" copy of Windows 7 to replace the Windows Vista the laptop came with.
I hate to be the bearer of bad news, but your laptop's Windows 7 installation will never be truly genuine if that's indeed what took place.
2 – Even if you could somehow work a bit of magic and make your laptop's Windows 7 installation genuine I still wouldn't recommend that you use it.
Why? Because it can never be trusted as being truly secure.
Microsoft effectively abandoned Windows 7 in January 2020 and they are no longer releasing security updates for it.
That means Windows 7 will forever be riddled with security holes that put any sensitive information stored on the machine at risk.
You could install a really good antivirus program on the machine and greatly reduce the risk of it becoming infected with malware, but malware is just one of several dangerous threats facing every Windows 7 machine.
Even the best antivirus and anti-malware apps cannot and will not prevent hackers from exploiting the many security holes that are now known to exist in Windows 7, and that means continuing to use Windows 7 will always be extremely risky.
Now that we have the bad news out of the way, here's a bit of good news…
You have the option of replacing the non-genuine and dangerous Windows 7 that's on your laptop with Linux (for free) and have yourself a really good laptop for Internet use.
As I said before, the ThinkPad T400 is an awesome piece of hardware that will run a distro like Linux Mint quite well. I recommend that you install it and give it a try.
---
Never miss a tip!  Click here to sign up for my free Daily Tech Tips Email Newsletter!