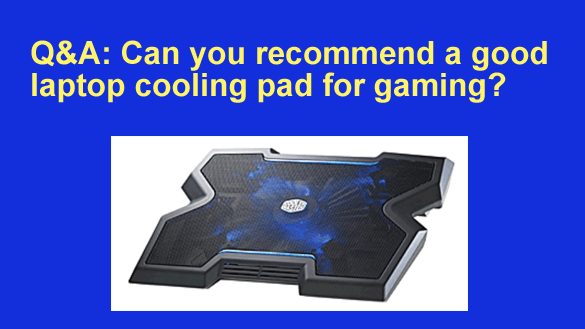 Note: The links in this post are affiliate links.
Question from Jarrod:  I have a three year old Alienware gaming laptop that I really love, but there's one problem that I've always had with it.
This laptop gets really hot after I've been playing a game for about half an hour and I'm afraid it's gonna end up getting fried.
I think a good laptop cooling pad might help but there are so many to choose from. I don't know where to start. Can you recommend one that works really well with gaming laptops? 
Rick's answer:  Jarrod, I agree with your thoughts about using a good cooling pad to help prevent your laptop from over-heating. They really do help a lot.
To answer your question, the most important thing is to stay away from the el-cheapo cooling pads you see at places like Walmart.
Those cheap generic cooling pads do a pretty good job for laptops running ordinary programs, but they really don't put out enough air volume to keep a gaming laptop operating under the stress of a resource-intensive game from over-heating if the laptop is prone to over-heating in the first place (and yours apparently is).
The extra stress heaped upon a laptop's GPU and other components while gaming causes them to heat up more quickly, and to higher temps than simply running Google Chrome or Microsoft Office ever would.
Here are a couple of things that can definitely help keep your laptop from over-heating during your extended gaming sessions:
1 – Always keep your laptop's air vents clear and the dust removed from the innards of your laptop.
2 – As you mentioned in above, use a high quality laptop cooling pad that puts out a high volume of air as measured in cubic feet per minute (CFM).
Don't assume that the more fans a pad has, the more air it puts out because that isn't necessarily the case.
What matters most is the size and rotational speed of the fan(s), not the quantity. Truth be told, some of the best laptop coolers on the market only have one large fan instead of several smaller and weaker fans.
Since you asked for a recommendation, I strongly recommend the NotePal X3 by Cooler Master.
The NotePal X3 has a powerful 200mm fan that should help keep your machine running nice and cool even during the intense action of the most demanding games.
There are a number of other quality laptop cooling pads available, but I can personally vouch for this one.
I hope this helps, Jarrod. Good luck!
---