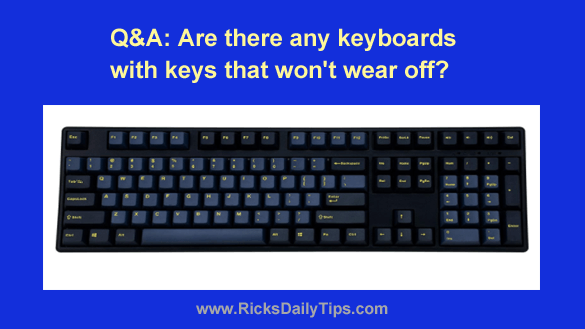 Note: The links in this post are affiliate links.
Question from Dawn:  Rick, Are there any keyboards which have keys that don't wear off like the old days when they were baked on?
I'm tired of replacing keyboards because for some reason my body oils take the paint off the keys.
Rick's answer:  That's a great question, Dawn. I know how frustrating it is to have a fully working keyboard that's covered with a bunch of "blank" key caps.
The short answer to your question is yes, there are many great keyboards with durable key captions to choose from.
Most of the better mechanical keyboards (i.e. keyboards that have actual switches for the keys) have key caps that won't fade or wear off.
These are typically excellent keyboards. For one thing they are heavier which makes it harder to accidentally knock the keyboard off your desk.
They are also typically better constructed so they'll last longer than their cheaper counterparts.
However, the above being said, mechanical keyboards do have a couple of downsides:
1 – The clicking sound they make when you press the keys can be quite loud because it's contacts inside physical switches that are being activated with every keypress.
This isn't really an issue for many folks, but for others it can be a deal-breaker.
2 – Mechanical keyboards are generally more expensive than what most people are used to paying for a new keyboard these days.
For example, the one I like most costs over a hundred bucks, and that's probably close the bottom of the price range of mechanical keyboards.
There may well be a non-mechanical keyboard out there that has durable key captions, but if there is I have yet to find it (and I've done a LOT of looking).
If you don't want to lay out $100 or more for a mechanical keyboard you do have another, much cheaper option…
You can always get yourself a set of these durable keyboard stickers and place them on your keyboard's key caps.
These stickers work quite well, and they will likely outlast most any budget keyboard they are attached to.
I hope this is a help to you, Dawn. Good luck!
---
Never miss a tip!  Click here to sign up for my free Daily Tech Tips Email Newsletter!