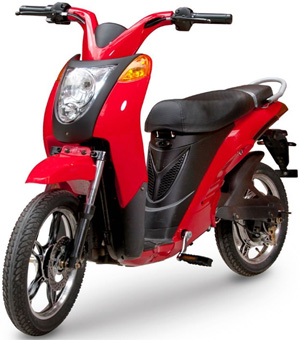 Do you enjoy riding a bicycle, but wish your weary legs could take an occasional break from pedaling?
Do you long for a fun, safe and economical way to get from Point A to Point B?
Does most of your traveling involve scurrying around town to pick up a few items at the grocery store, visiting the library or making a short commute to work?
If you answered yes to any of these questions, you need to check out the awesome Jetson Electric Bike!
The Jetson Electric Bike isn't a motorcycle or a moped. It's an honest-to-goodness bicycle that just happens to have an electric motor on it. 
You can choose to pedal your way around just as you would with any bicycle, or you can engage the powerful electric motor to travel up to 20 miles per hour and up to 40 miles on a single battery charge!
If the battery happens to run down before you return home, simply start pedaling and the battery will begin charging as you pedal. After the battery has re-charged a bit, you can stop pedaling and use the electric motor once again.
Once you get home (or wherever else you might be going), simply unplug the Jetson's battery and take it into the house with you. Plug it into any standard 120V wall outlet and the battery will re-charge in just 4 hours! And by the way, the battery is guaranteed to last for up to 1,000 charging cycles.
Since the Jetson is actually a bicycle, you won't need a drivers license and you won't have to register it with the DMV. Just hop on it and ride!
These bikes are attractive, with a sleek ergonomic design. They are also available in a wide range of colors.