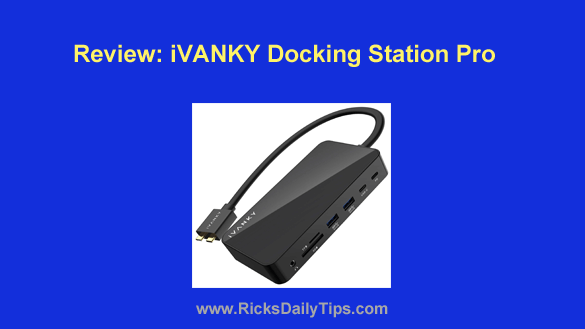 Apple's MacBook Pro and MacBook Air lines of laptops are excellent machines, but one of their few major negatives for many users is the lack of I/O ports.
For some people this isn't really an issue, but for lots of others it's a huge deal because of all the legacy USB gadgets they'd love to use with their machines.
This has led to a boom in external docking stations that expand the MacBook Pro and Air's existing ports into several, while also adding extra capabilities.
I've had the opportunity to check out several of these devices, and today I'm going to tell you about a fantastic new docking station from the folks at iVANKY.
The iVANKY Docking Station Pro isn't your general, run-of-the-mill USB port-expander type of hub device.
It was actually designed and optimized to work exclusively with Apple's newer MacBook line of laptops, including all of the following:
16-inch MacBook Pro
15-inch MacBook Pro (2016 and later)
13-inch MacBook Pro (2016 and later)
13-inch MacBook Air (2018 and later)
This well-designed docking station couldn't be easier to use. Simply plug it into your MacBook's dual USB-C ports and then connect your devices to the appropriate ports.
It's Plug-n-Play design means you don't have to bother with installing a driver or any type of external software.
Your MacBook's operating system will automatically detect the docking station and work its magic behind the scenes, leaving you to concentrate on more important tasks.
Once you connect this device to your MacBook Pro or MacBook Air you'll immediately have the following ports available to you:
Two HDMI 2.0 Ports
One 18W(9V/2A) PD USB-C Charging Port
One USB Type-C 3.0 Port
Four USB Type-A 3.0 Ports
One SD Memory Card Slot
One microSD (TF) Memory Card Slot
One 3.5mm Audio Jack
One Gigabit Wired Ethernet Port
Note: This NOT a Thunderbolt 3 dock.
In short, you can connect up to twelve hard-wired devices to your laptop with this docking station, including up to two external HDMI monitors (dual 4K@60Hz display with extended mode) and a plethora of USB and flash memory devices.
Here's a look at a couple of external monitors connected via this docking station: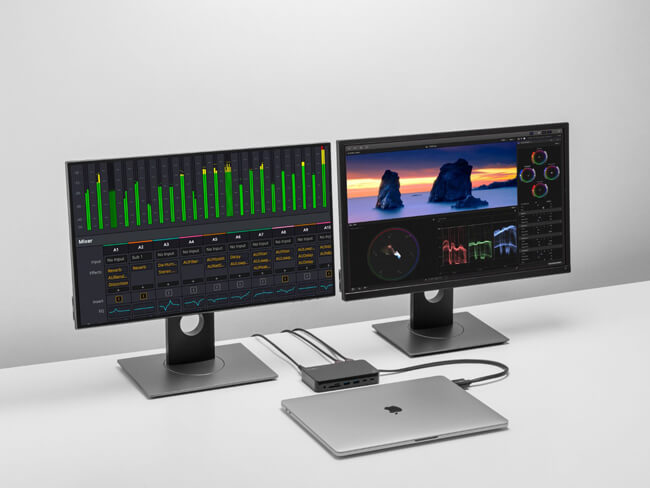 And here's an image depicting all the types of connections you can make: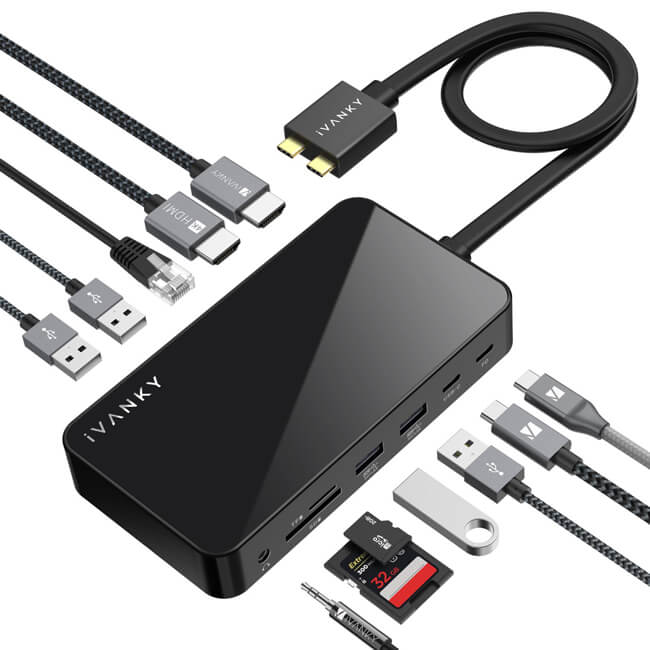 And one more showing a phone being charged:
Pretty handy, right?
A quick aside: I know it might seem insignificant, but I really being able to use my beloved pair of hard-wired desktop speakers with amazing sound with the new MacBooks!
Unlike many popular docking stations, this one comes with its own 180 watt AC adapter that allows you to charge other devices right from the docking station – and that includes your MacBook itself.
In fact, you can charge your MacBook and your phone at the same time.
As you can see, this is an outstanding docking station that will give you a ton of extra flexibility for connecting a wide array of devices to your MacBook Pro or MacBook Air.
Bottom line: If you're looking to expand the capabilities of your MacBook by adding an external monitor or two and/or taking advantage of your various legacy USB devices, this fantastic docking station would be an excellent choice.
Click here to read more about the iVANKY Docking Station Pro at Amazon.
---
Never miss a tip!  Click here to sign up for my free Daily Tech Tips Email Newsletter!