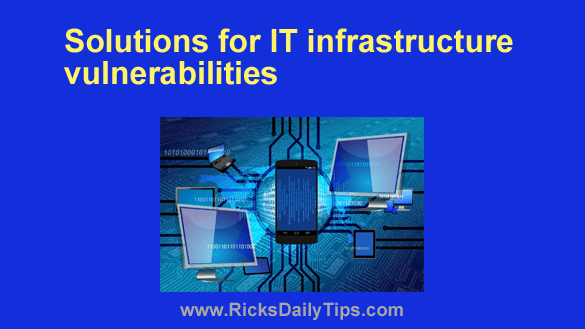 An organization is only as secure as its IT infrastructure – and almost every business has weaknesses in its infrastructure that leave it woefully vulnerable to attack.
Often, eliminating these vulnerabilities isn't easy; a truly secure IT infrastructure requires diligence as well as knowledge and skill.
Still, understanding current vulnerabilities is the first step to improving security, so without further ado, here are four infrastructure vulnerabilities that almost every organization suffers from: 
1 – Personal Devices
A significant number of employees use their personal devices for work, especially as remote work has become commonplace in the post-pandemic period. Many organizations benefit from bring-your-own-device (BYOD) policies, which help to reduce expenses related to supplying workers with costly tech and encourages workers to prolong their productivity, adding hours of extra work per day.
Unfortunately, personal devices connected to the business network exposes the organization to significant cybersecurity risks. Individuals tend to maintain lower security on personal devices to allow for easier and more convenient access to their tech.
Additionally, individuals tend to take greater risks with their personal devices, such as installing riskier programs or navigating to riskier corners of the web. If a personal device is compromised and then connects to the corporate network, the network is much more likely to become victimized by an attack.
If an organization wants to maintain a BYOD policy, it needs to radically strengthen the rules and regulations for personal devices that connect to the business network. Otherwise, the IT infrastructure will suffer from persistent vulnerabilities that will eventually lead to a successful and devastating attack.
2- Unauthorized Applications
Software is a common point of entry for attackers, as software tends to be riddled with potential vulnerabilities.
Sometimes, software does not integrate properly into the IT infrastructure because the organization has not implemented the appropriate APIs.
Sometimes, software developers overlook certain gaps in security, and sometimes vulnerabilities open in software over time as the systems around the program change through updates and patches.
Finally, sometimes software is built with an intentional backdoor, allowing attackers easy access to business networks.
There are various ways for IT teams to eliminate vulnerabilities due to software on business devices and networks through proper infrastructure planning and maintenance, but perhaps the most important component is restricting employee permissions to download new applications.
Then, IT staff can investigate software and account for it within the infrastructure to eliminate potential vulnerabilities before they put business networks at risk.
3 – Unauthorized Use of Information
Most business data is remarkably sensitive; it might include customer names, addresses and payment information, or it might involve intellectual property that gives an organization its competitive edge.
In any case, employees with access to the corporate network often have access to the organization's data — and many workers have the potential to use that data in unauthorized ways.
If an IT infrastructure is not properly designed to prevent certain employees from accessing sensitive information, it is likely that information will trickle out of the company, causing various problems. An employee might save data outside of the network in a location that is vulnerable to attack, or a worker might purposefully send that information to competitors for some kind of personal gain.
It is imperative that IT infrastructures maintain access controls and other forms of security to prevent the unauthorized use of sensitive data.
4 – Phishing and Spam Attacks
The most common type of cyberattack — and the most successful form of attack — is still among the simplest: phishing. Phishing relies upon human error, and because human workers remain critical components of business networks, phishing will continue to be a vulnerability to IT infrastructure.
Though various cybersecurity tools can help mitigate the effects of a phishing attack, truly the only way for organizations to protect their infrastructure from phishing is through staff education.
Business leaders should not expect their employees to inherently understand online threats; they should develop certainty in their workforce's ability to recognize and avoid phishing attacks through diligent training.
Every business operating in the digital age needs to maintain the integrity of its IT infrastructure. By recognizing the possibility of the above four types of vulnerabilities, business leaders and IT teams can strengthen their infrastructure and prevent successful attacks.
---