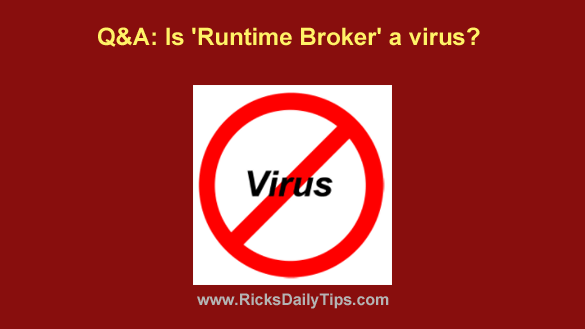 Like my tips?  Click here to sign up for my free Daily Tech Tips Newsletter and you'll never miss one!
---
Question from Garland L.:  I recently noticed there's a process called "Runtime Broker" always running when I load Task Manager.
My McAfee antivirus doesn't flag it as a virus, but it still sounds fishy to me.
I called Office Depot and asked the tech guy about it but he refused to give me an answer about whether this is a virus or not. They said I'd need to bring my computer in and pay them to run a virus check on it.
I ran across your website on Google and saw where you answer people's questions.
So what's the deal? Is "RunTime Broker" a virus or not?
Rick's answer:  Garland, I'm surprised that Office Depot refused to answer your question because that's a very easy question to answer without even seeing your PC.
It's true that those folks don't work for free (nor should they be expected to), but the answer to your question is so cut-and-dried that I believe they should have simply answered it without asking you to pay for a service that you very likely don't need.
In a nutshell, the answer to your question is no, "Runtime Broker" is not a virus.
It's actually a legitimate Windows process that shows up at certain times on machines running various versions of Windows. You can safely ignore it with no worries whatsoever.
That being said, if your computer is running slow, freezing up on you or acting in ways that make you think it might have a malware infection, you probably should go ahead and run a thorough malware scan just to be safe.
You can easily run a series of free malware scans yourself and save some serious cash. Just follow the steps listed in this post.
Update from Garland:  Thanks for your quick and thorough answer Rick. I'll be reading your posts from now on!
Bonus tip: When you run a scan with your antivirus program it will usually give your PC a clean bill of health, but should you always trust it?
In my mind, the answer is no. Why? Because no antivirus engine is perfect and every now and then a piece of malware will slip through the cracks and not be detected by a scan.
This is why I recommend that you periodically run an additional scan with one of the on-demand anti-malware apps listed in this post.
---
Cick here to ask me a tech question.