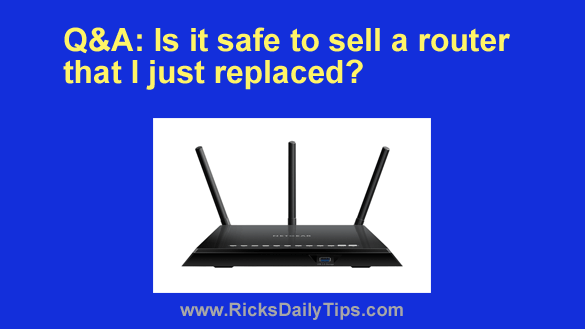 Question from Ben:  I recently replaced my three year old router with a new one that's a lot faster.
I checked on Ebay and routers like the one I replaced are selling for around $60.
I'd like to sell the old router but I'm afraid a hacker might be able to steal my info from it.
What's your opinion on selling used routers? Is it safe? 
Rick's answer:  That's a great question, Ben. And the answer is yes, it is safe to sell a used router, but I strongly recommend that you reset it back to its factory default settings first.
Truth be told, most consumer-grade routers don't store all that much info that would be useful to a hacker, but there are a couple of things that could potentially be problematic:
1 – If the router stores your email address that address could potentially be used by a hacker to send you Spam and/or Scam emails.
2 – The names and passwords of the WiFI network(s) that were enabled on the router when you took it out of service could possibly be used to log onto your current WiFi network(s).
This info wouldn't typically be useful to a hacker, but if the WiFi network(s) you've set up on the new router use the same network names and passwords as the ones you used with the old router, a hacker could use that info to log onto your new network(s) if the hacker happens to be local and knows where you live.
Some routers store even more personal info as well, but without knowing your router's brand and model there's no way to tell you what it might be.
For the reasons stated above, I strongly recommend that you perform a factory reset on the router before you put it up for sale.
A factory reset will completely wipe out all the personal information that's currently stored in the router, thus making it completely safe to hand it off to a new owner.
You'll find instructions for performing a factory reset on your router in its user manual.
If you don't have the manual on hand you should be able to easily find it online by typing the router's brand and model along with the words user manual into Google.
For example, let's say your router is a NetGear AC1750. This is what you would type into Google:
NetGear AC1750 user manual
A search of that nature should provide you with a download link for the router's user manual right at the top of the search results.
I hope this helps, Ben. Good luck!
Update from Ben:  I reset the router and it's now up for sale on Ebay. Thanks for your help.
---