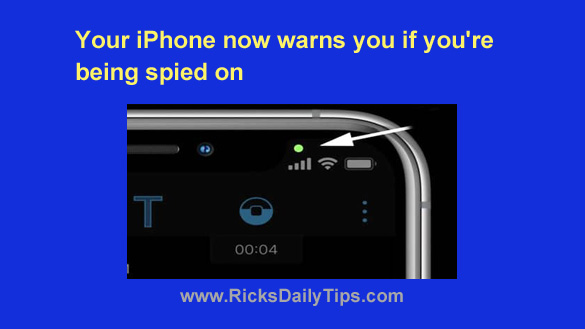 If your iPhone has been updated to iOS 14 you've probably noticed a little orange or green dot popping up in the top-right corner of the screen at various times.
Well, truth be told, that tiny colored dot could well be the most useful feature ever added to iOS via an update!
The reason I say that is because when you see the dot you'll know your phone's microphone and/or camera is currently being used by one of your apps to capture audio and/or video.
One of the most dangerous things about smartphones is how malicious apps can turn on the devices' microphones and cameras to spy on their users without their knowledge or consent.
Now, any phone that has iOS 14 installed will give you a visual heads-up any time its camera and/or microphone is being used to capture audio and/or video.
If you see an orange dot you'll know everything you say is being picked up by the microphone.
And if you see a green dot you'll know the camera is capturing video.
Here's a partial screenshot that shows what the dot looks like and where you'll find it: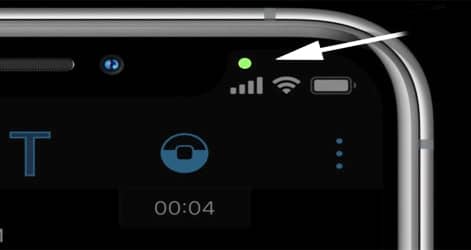 As you can see, the dot is green which means the phone depicted here is being used to capture video.
(Note: Any time the camera is being used you should always assume that the microphone is being used as well. Just sayin'.)
Of course legitimate apps like FaceTime and Facebook obviously must have access to the microphone and camera if you want to use them to video chat or stream live video, so you should expect to see the green dot when you're using them for those purposes.
And as you know, many other apps have legitimate reasons for being able to capture audio and/or video as well.
As a general rule, if you consciously installed an app you probably know whether it really has a legitimate need to access the mic and camera or not.
If you happen to see an orange or green dot when you aren't using an app that actually needs access to the microphone or camera, you'll know that one of your installed apps is listening in and/or capturing video at that every moment.
You can find out which app is the culprit by opening the Control Center and checking to see which app is listed next to the microphone and/or camera icon.
Once you know which app is using your iPhone's mic or camera without your knowledge you can either revoke that app's permission to use those tools or simply remove the app altogether.
Bottom line: Like with every other iOS update there are sure to be changes in iOS 14 that end up being less than popular with most users. However, I don't believe this is one of them.
This new little colored dot has the potential to make using your iPhone a lot safer than it has been in the past.
---
Never miss a tip!  Click here to sign up for my free Daily Tech Tips Email Newsletter!