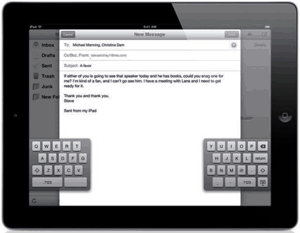 Question from Linda:  My 4 year old got her hands on my iPad and now the onscreen keyboard is split into two halves.
I tried typing with it like this but I just can't because it feels so unnatural.
I'll be forever in your debt if you can tell me what I need to do to get it back to normal! Can you?
Rick's answer:  This actually happens a lot Linda, and it's almost always by accident based on the desperate pleas for help I receive on a fairly consistent basis.
Your message prompted me to finally write this post explaining how to fix the split keyboard issue. 
Luckily, this is a very easy problem to fix. All you have to do in order to put your iPad's keyboard back together again is take two fingers and "pull" the two sections of the keyboard back together.
Just place a finger on each section of the split keyboard and drag them simultaneously towards the center of the screen. They'll "snap" back together like magic.
By the way, if you would prefer using a full-size keyboard when you're using your iPad at home, you can! All you need is a Bluetooth keyboard like this one. (#ad)
I use this keyboard myself with my Windows tablet, but it works great with Apple products too. Check it out and see what you think.
Update from Linda:  Thanks Rick, that worked! Should I say "Duh"?? lol
And I really like the idea of using a "real" keyboard with my iPad. I think I'll order the one you mentioned above since I'll be able to fold it up and take it with me when I travel.
---
Do you have a tech question of your own for Rick? Click here and send it in!
If you think your friends would like this post, I'd love you to share it! Thanks a bunch!