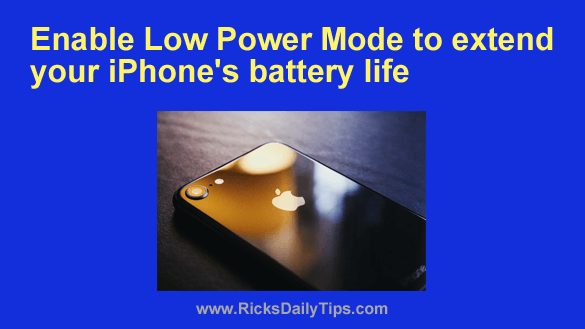 iPhone users started complaining about their phones' horrible battery lives almost as soon as the first iPhone was released.
In response, Apple developed a comprehensive strategy for improving the battery life in their devices.
As part of that comprehensive strategy, beginning with the release of iOS 9 they provide a Low Power Mode that can greatly increase the duration of each battery charge. 
And that of course can potentially allow you to use your iPhone longer between charges.
And yes, it really can make a big difference.
In a nutshell, enabling Low Power Mode either reduces the frequency of certain background processes or disables them altogether as long as Low Power Mode is active.
And depending on the circumstances at the time, it might also reduce the speed of your data transmissions.
Whenever you find that your iPhone's battery is running low, enabling Low Power Mode can help it stay up and running longer. Just follow the steps below to enable it:
1 – Tap Settings.
2 – Tap Battery.
3 – Toggle the "Low Power Mode" setting to On.
That's all there is to it. Your battery charge should now last at least a bit longer, hopefully long enough to allow you to use the phone until you have an opportunity to charge it.
---