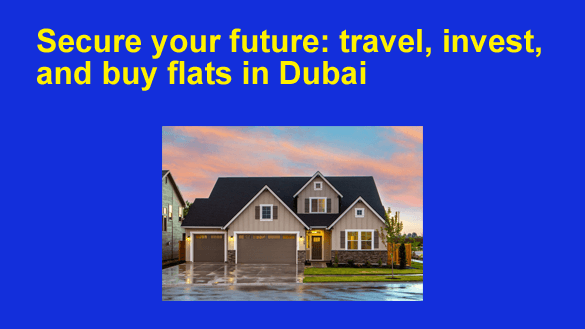 To buy villas in Dubai Hills Estate is not only profitable but there is also a chance to seamlessly combine property investments and travel in Dubai.
The unique complex offers a high-quality life with comfort, as well as the opportunity to make a profit. 
Planning for tomorrow: investing in Dubai Hills Estate while traveling
Flats and townhouses in Dubai Hills Estate have a large set of functions, you can lead any lifestyle. All living quarters are equipped with:
1 – Modern furniture
2 – Household equipment
3 – Split systems
4 – Internet communications
The huge windows offer fantastic views of 21st-century Dubai. The dream of a cozy modern residence with everything you need comes true if you buy a unit in Dubai Hills Estate.
Key to long-term stability
Dubai Hills Estate housing is sold in a variety of formats. You can buy an off-plan unit and ready-made one. Mortgage programs and other benefits have been developed for foreign citizens. The UAE government is interested in developing an investment climate that has a positive effect on the economy. Millions of tourists come to the country to relax, so renting your residence is not particularly difficult, as demand exceeds supply.
This is an opportunity for long-term investments. Located in the center of Dubai, these facilities guarantee a luxurious life; they combine at the same time: rural life in nature and the benefits of the civilization of a modern metropolis.
Property investments: your path to a secure future
Real estate in Dubai Hills Estate has its characteristics. The designers have thought out the layout so that the exteriors and interiors maximize the living space of the premises. At the same time, modern and classical styles are organically combined.
Some customers prefer to buy units without finishing and create the interior themselves according to their sketches. Only first-class expensive materials are used in construction:
• marble
• porcelain stoneware
• clinker tiles
Terraces are being created on the roofs, barbecue areas are being equipped in the courtyards. All villas are surrounded by greenery of trees and shrubs.
Must-visit places
Few tourists know the unique place, which is located on Oud Metha Road. Here is a place for pink flamingos to rest. These wonderful birds can be observed from a special structure using binoculars. Children will especially enjoy this trip, but adults will also be very impressed.
Another non-trivial place that makes a huge positive impression: the garden of paradise butterflies. Thousands of exotic butterflies of various colors flutter among palm trees in wide and tall greenhouses. To visit here with the whole family means to make a small discovery and get great pleasure.
Zabeel Park is an escape from the hustle and bustle of the city. Here you can have a picnic with friends on the grass. There is a barbecue area, you can go boating. Sprawling palm trees grow around, the place is picturesque and quiet.
Perks of properties in Dubai Hills Estate
All residences are full of the necessary equipment: there are swimming pools and private gardens, outdoor entertainment areas, terraces, etc. There are interesting projects for family people where you can get additional space as family members increase. All finished villas are decorated to the highest standard.
Buying a villa is a lifestyle change and at the same time and opportunity to save and increase investments. The Premium Dubai Hills area looks more prestigious compared to similar locations: like Abu Dhabi or Sharjah; the potential is noticeably greater, and this is best confirmed by the monthly price increase.
Conclusion
The Emirates.Estate provides a large information base of offers, the most complete on the market. Go to the information catalog, select offers, write, and send a request by mail to the client department. If you need to find out more information about, contact the experts right away. Emirates.Estate is always ready to help you buy your dream home.