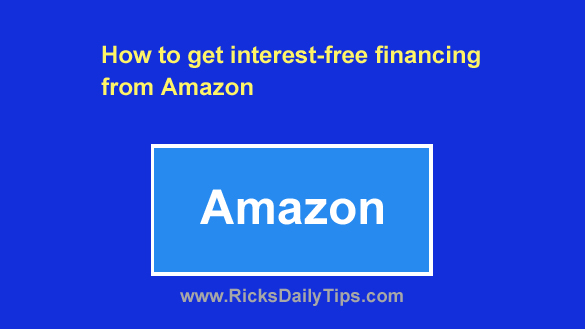 Note: The links in this post are affiliate links.
It's no secret that I buy most of my tech gear from Amazon. I also recommend that others do the same for the reasons stated in this post.
Well, did you know there's an easy way for Prime members to get a full 12 months interest-free financing on any Amazon purchase of $600 or more? 
And even if you don't plan to spend that much, you can still get 6 months interest-free financing on any purchase of $150 or more!
All you have to do to qualify for these special interest-free financing deals is get yourself an Amazon Prime Store Card and use it to purchase your big ticket items. It really is that simple!
You can use your Amazon Prime Store Card to buy that nice DSLR camera you've always wanted, a new computer, a nice piece of jewelry for your sweetie, or anything else your heart desires.
If it meets or exceeds the $150 or $600 threshold, you get to make payments for either 6 months or a year and pay zero interest.
And there's another bonus as well. After your application for the card has been approved, Amazon will instantly apply a free $60 Amazon Gift Card to your account.
That means you'll effectively get an immediate $60 discount on the very next purchase you make on Amazon!
There is just one caveat with this offer to keep in mind…
In order to qualify for the free interest deal, you'll have to pay off your account balance in full before the 6 month or 1 year time period is up. If not, you'll be charged the normal interest rate on your financed purchases retroactive to day one.
That means if you decide to take advantage of this offer, make sure you pay off the balance on time in order to avoid having to pay the interest charges.
Bottom line: We're all looking for ways to save money these days, and with the Christmas shopping season just around the corner, interest-free financing with the Amazon Prime Store Card is a great way for Amazon Prime members to save a bundle on the things you would have purchased anyway!
---