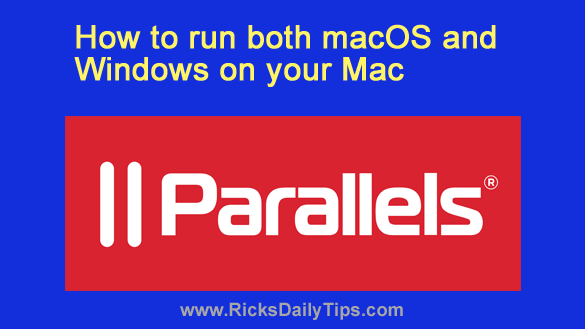 Is there a Windows program (or two, or ten) that you'd really love to run but you just don't want to ditch your Mac and buy a PC?
Well guess what? You can easily run Windows programs and apps right on your Mac while still using macOS as the machine's primary operating system. 
How is this is possible? With the use of an awesome tool called Parallels Desktop.
In a nutshell, Parallels Desktop allows you to install and run the Windows operating system in a virtual machine within macOS.
I won't go into the technical details of how this works here because from the user's perspective it isn't important.
Just know that once Parallels and Windows are installed on your Mac you'll be able to do everything you have always done with your Mac and also seamlessly switch to Windows (and back) at any time.
You won't have to reboot the machine into Windows and then back into macOS. In fact, you won't have to reboot the machine at all.
You'll be able to quickly and easily switch back and forth between macOS and Windows on a whim.
What's more, you'll also be able to copy and paste things and drag and drop files between macOS and Windows, making it easy to share files and info between the two operating systems.
Sound good? Here's what you'll need to do:
1 – Purchase Parallels and install it on your Mac.
2 – Download Windows 11 and install it.
3 – Install the Windows programs and apps you want to run.
Of course this is a very general overview of the process, but the instructions that come with the Parallels Desktop software will explain everything you need to know in order to get Windows up and running on your Mac inside a virtual machine.
Bonus tip: Want to give Linux a try? You can run it on your Mac inside a Parallels virtual machine as well!
---