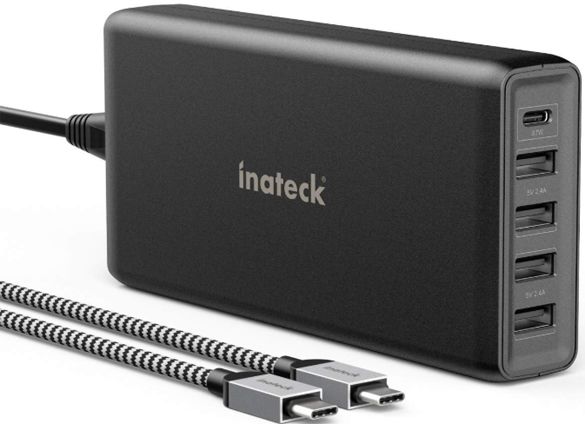 Note: The links in this post are affiliate links.
It seems that nowadays everything is charged via USB.
And it also seems like there are never enough USB charging ports available to keep all of our devices charged up and ready for use.
The mass proliferation of USB powered devices has created a huge market for USB-style wall chargers.
I've reviewed several of them in the past, and today I'll be telling you about one of my favorites.
It's the Inateck 5-Port 111W High Power USB Charger, and it's a very capable charger. It's one of the best I have ever used in fact. 
This powerful charger from Inateck provides plenty of current for charging up to five devices at the same time.
The four standard 5V-2.4A USB-A ports will each charge a smartphone, a tablet or most any other USB charged device.
You're probably very familiar with USB-A ports since they're the ones we've been using since the early days of USB.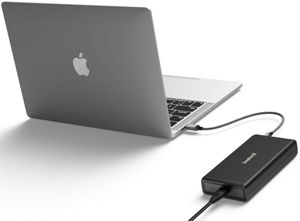 The one 87W USB-C port will charge most any USB-C chargeable device – up to and including laptops!
USB-C is the newer high-power port that uses reversible cables that you can plug in without having to struggle to find the right connector orientation.
As with most USB wall chargers, this one doesn't include any USB-A charging cables. But since the vast majority of USB charged devices come with their own cables, this really shouldn't be an issue.
It does come with one USB-C charging cable since some devices are actually shipped without one.
I tested this unit by charging three smart phones and a 7″ tablet at the same time, all of which had fairly low batteries when the charging began.
The phones were all charged in about the same amount of time as it takes when plugged into their factory-provided chargers.
The tablet actually charged faster than it does when plugged into the charger that came with it.
Over all, I really like this powerful charger. It's easy to use, works well, and doesn't get hot even when working under a heavy load.
If you're looking for a high quality multi-port USB charger, I don't think you'll find a better one for the same price.
Click here to check out the Inateck 5-Port 111W High Power USB Charger at Amazon.
Bonus tip: Want to make sure you never miss one of my tips? It's easy! Just…
Click here to sign up for my free Rick's Daily Tips Email Newsletter!
---
Would you like to ask Rick a tech question? If so, click here and send it in!
If you found this post useful, would you mind helping me out by sharing it? Just click one of the handy social media sharing buttons below. Thanks a bunch!