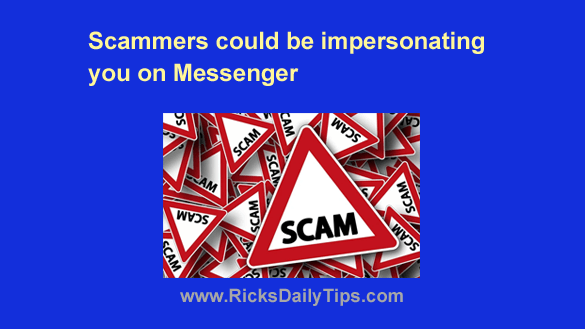 Yet another Facebook-related scam is making the rounds, but this one isn't being perpetrated on the Facebook website.
It's actually taking place on Messenger app instead.
As Facebook scams go, this one is pretty simple but it's also unusually widespread.
In a nutshell, the scam goes something like this… 
Several of your friends start receiving strange messages that appear to have been sent by you via Facebook Messenger. These messages can vary quite a bit but they are almost always messages that are out of character for you.
Some messages will try to trick your friends into signing up for some "deal". Others will try to get them to click a link or watch a video.
Regardless of the actual messages they receive, they are almost always the types of messages you wouldn't normally send. That should be a huge red flag for your friends, and luckily it usually will be.
Most people who receive these messages recognize right away that they're out of character for the sender and message them to let them know what's going on.
That's why in most cases the messages themselves aren't really the problem. The real problem is the "sender" usually thinks their Facebook account has been hacked when it actually hasn't.
Understandably, they change their password thinking that will fix the problem, but it doesn't.
Messages continue being sent out in their name even after they change their password, which of course has them pulling their hair out trying to figure out why someone is still sending messages to their friends from their account.
Well, if your friends start receiving messages that appear to have been sent by you, don't panic. Your account probably has not been hacked.
What's happening is someone has created a fake account using your name and photo and they're using that account to make it look like the messages they're sending came from you.
Unfortunately, Facebook makes it easy for scammers to impersonate you on Messenger, and that can cause a ton of confusion when a scammer decides to target YOUR friends for mischief.
The good news is your Facebook account has NOT been hacked.
The bad news is your friends are receiving messages from a scammer that make them believe your account has been hacked, and when they message you to tell you about it YOU also believe your account has been hacked (even though it hasn't).
Luckily, this is one of the easiest scams to detect. Here's how…
When one of your friends messages you and says "you've been hacked because I'm receiving strange messages from you", send them a message back and ask them if there are two accounts in your name showing up in their messages list.
If they see your name on the list twice that means they're receiving messages in your name from two different accounts – your real account and the fake account that was created by the scammer.
Unfortunately, there isn't really anything you can do to prevent this type of scam, or even put a stop to it because it's very easy to impersonate another user on Messenger.
What you can do is warn your Messenger contacts about the fake "you" so they can be on the lookout for those strange messages and block the fake account one they discover it.
And now, one final recommendation: Even though your actual Facebook account hasn't been hacked, I still recommend that you enable Two-Factor Authentication on it to prevent it from getting hacked in the future.
---