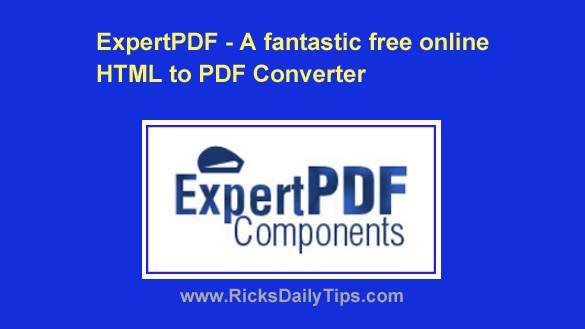 There are many ways to convert HTML files to PDF files, and some of them are free while others cost a small fortune.
If you're a regular reader of this site you know that I'm all about free, so as you can guess my preferred HTML to PDF Converter is indeed a freebie. It's called ExpertPDF.
While some of the commercial solutions available come with tons of extra useful features, this one is extremely easy to use and it does an excellent job at creating basic PDF files. 
Best of all, there are no programs to download and install unless you need the premium features. Everything is done right on the website.
There are two easy ways to use ExpertPDF's online converter:
1 – Click here to visit the ExpertPDF website.
2 – If the HTML file you wish to convert to PDF format is on the web, simply paste the URL into the box and click the Convert to PDF button. The conversion will take place immediately and you'll be prompted to save the newly created PDF file to your hard drive.
3 – If the HTML file is located on your computer's hard drive, click the link in the section labeled Need to convert HTML scripts to PDF?, then paste the HTML code directly into the box and click Convert to PDF.
That's all there is to it. Enjoy!
---