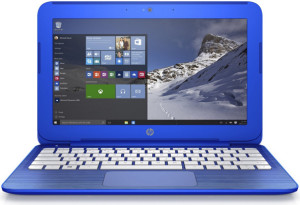 The inexpensive Google Chromebooks have been gobbling up laptop market share like gangbusters, but this nice little Windows 10 laptop from HP aims to take back a good chunk of it.
Like a Chromebook, the HP Stream (#ad) is primarily a cloud-based laptop that leverages the flexibility of cloud storage to make all of your documents and files available to all of your devices regardless of where you might be at any given moment. 
As long as you have Internet access, you'll be able to get your work done on this laptop and immediately access those same files with your mobile device(s).
While it isn't the fastest laptop on the market, I believe it's a good value.
First, the negatives: The Intel Celeron N3060 CPU is a tad slow, its 4GB of RAM isn't upgradable and it has a relatively small 11.6 inch screen.
The above being said however, the 32GB solid state drive (SSD) paired with the included one year subscription to 1TB of OneDrive online storage gives you a fantastic balance between speed and storage capacity.
You could also augment the local storage by adding an external USB hard drive (#ad), something you'll need anyway if you plan on creating System Image backups.
Also included in this bundle is a free 1 year subscription to Microsoft Office 365, something that few laptops come with. Another plus is the awesome 10+ hours of battery life.
The built-in AC class Wi-Fi is a nice perk that I wasn't expecting to find in a laptop in this price range.
Bottom line: If you're looking for a very inexpensive Windows laptop that makes extensive use of cloud-based services and storage, I believe the HP Stream is a good choice. But if you need a laptop that will run several local programs and apps, you'd probably be better off looking at a more powerful PC.
Click here (#ad) to read more about the HP Stream Laptop on Amazon.