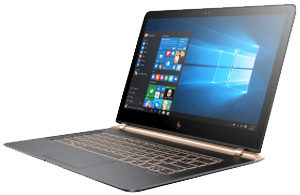 When it comes to laptops these days, thin is in – as in the thinner the better!
The problem is, as laptops become thinner, sacrifices must often be made in terms of performance, features and connectivity.
With their new Spectre 13.3 Ultrabook, HP has managed to create one of the thinnest laptops ever without sacrificing much of anything at all! 
And when I say thin, that's exactly what this thing is. In fact, it's a mere .41 inch thick with the lid closed! Truth be told, this laptop is actually thinner than Apple's iPad Pro tablet.
It's also quite light as well – just 2.45 pounds.
Luckily, the small size and light weight of the Spectre 13.3 Ultrabook don't translate into weakness in terms of CPU power and storage capacity. Just check out these specs:
13.3 inch Full HD Color Display (1920 x 1080)
6th Gen Intel CoreTM i7-6500U CPU
8GB DDR3 RAM
256GB SSD
802.11 B/G/N Wi-Fi
Durable, All Aluminum Case
Multiple I/O Ports
Windows 10 Home
As you can see, there is plenty of power packed into this thin, durable case.
HP rates this machine's battery life at approximately 9.5 hours, and I found that to be fairly accurate, even while streaming video with several programs running in the background. That's pretty good for a laptop of this size and weight.
One area where some compromise was obviously made is with the sound system. Don't get me wrong, it sounds just fine. The problem is with the volume. I don't hear all that well, and I found the maximum volume to be a bit on the low side for comfortable hearing.
Perhaps the most surprising thing about the Spectre 13.3 is the quality of the keyboard. In order to make any laptop as thin as possible, the keys must be designed to be extremely thin as well.
Since thin keys typically translate into a poor typing experience, that's exactly what I was expecting to encounter with this keyboard. But much to my surprise, I found the keys to be very responsive and almost as easy to use as the keys on a full size desktop keyboard.
Here is a larger view of the HP Spectre 13.3 Ultrabook: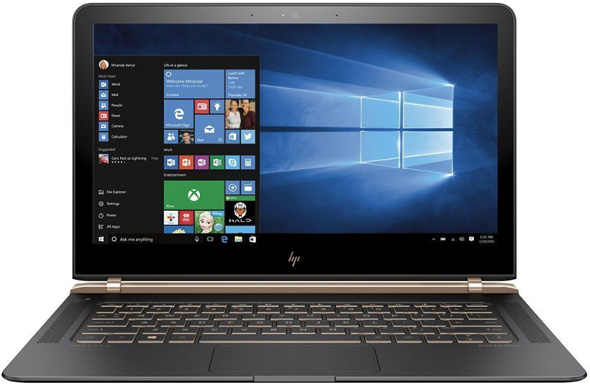 Bottom line: While the HP Spectre 13.3 is one of the thinnest ultrabooks on the market right now, it certainly isn't lacking in either power or features.
While HP obviously had to make slight compromises in battery life and audio volume, those are greatly outweighed by all the great things they were able to pack into this ultra-thin case.
In short, this is one awesome machine in my opinion.