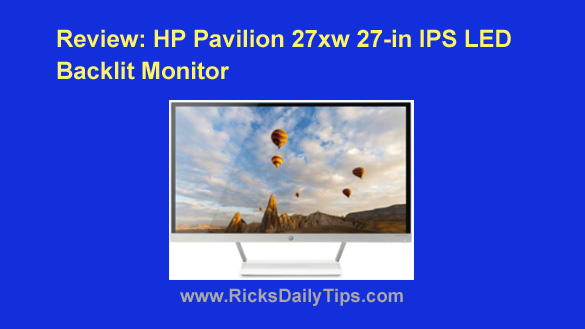 Note: The links in this post are affiliate links.
With all the programs, web browsers and apps we're running these days, it seems like our computer screens are never quite big enough as we try to squeeze more and more windows onto our screens.
But that's changing very quickly now as monitors are growing larger while prices remain the same, and even drop.
I received a beautiful 27″ HP Pavilion 27xw IPS LED Backlit Monitor for review, and since I had never used a monitor that was larger than 23 inches before it was a real eye-opener. 
When a 27 inch monitor is sitting on a store shelf beside a bunch of other monitors, it's easy to tell that it's larger than many of the others.
But let me tell you, the true difference in size doesn't become apparent until it's actually hooked up to a computer at your desk!
The first thing I was reminded of after opening the box was how well HP packages their monitors. I always wonder about the kind of treatment packages receive from the delivery guys, but the way this monitor was packaged made for some pretty good insurance against rough treatment.
This was by far the easiest monitor to assemble that I have ever seen. The large, but attractive metal stand simply slides into a set of locking slots on the bottom edge of the monitor that hold it firmly in place without having to fiddle around with any screws.
Once assembled and placed where you want it, this monitor is quite steady, something that is always a concern with large flat-panel displays.
I used an HDMI cable to connect the display to my Gateway desktop PC. This model comes with dual HDMI connectors as well as VGA. Since my old monitor was connected via HDMI all I had to do was unplug it and plug this one in using the same cable.
After starting up the PC with the new monitor attached, I inserted the driver CD and installed the software. I then checked for a newer version of the software and driver on the HP website and found that they did in fact have them. After the updates were installed, I got busy putting the monitor through its paces.
The first thing I noticed after loading a couple of web browsers and a few apps is how everything on the screen appeared so much bigger and vibrant. I did notice that the text on the screen was a little dim and "thin", but after running the monitor's calibration utility and making a few adjustments in the Windows Control Panel everything looked great.
I found that I'm able to keep a full-sized window containing Outlook.com open on the left-hand side of my screen and a full-sized window of pretty much anything else open on the right. No scrolling left and right to view the rest of a window. I absolutely love it!
I've been using this 27″ gem for several days now, and I can tell you that there isn't a single thing that I don't like about it.
There is one small oddity that sort of stands out at first, but it's really no big deal. This is the first monitor that I have ever used that has an external power brick. I suppose that's a trade-off we have to deal with when a monitor is this thin, but like I said it's really no big deal.
Bottom line: If you'd like to replace a smaller monitor with a 27 incher, I honestly don't think you'll find a better one for the money.
All in all, this is a very attractive monitor. It doesn't wobble around like many larger sized displays, and it appears to be well-built and durable.
Click here to read more about the HP Pavilion 27xw 27-in IPS LED Backlit Monitor at Amazon, including over 1,300 overwhelmingly positive user reviews.
---
Never miss a tip!  Click here to sign up for my free Daily Tech Tips Email Newsletter!