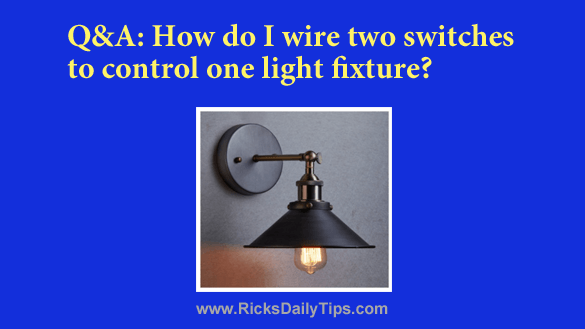 Click here to sign up for my free Rick's Tech Tips Newsletter!
---
Question from Dewey:  Hi Rick. I have a wiring question that I hope you can help me with.
I want to install a light fixture on my back porch and use two switches to turn it on and off. One switch will be located outside on the porch and the other switch will be on the inside wall next to the door.
My question is how do I wire this up so that either switch will control the light without having to touch the other switch? 
I know this can be done but I don't have a clue how to connect the switches to the fixture. Your help will be greatly appreciated.
Rick's answer:  Hi Dewey. This is one of those projects that is actually easier than one might expect. All that's required are a few simple instructions and the ability to pay attention to detail.
What you want to do is wire up a 3 way switch (a strange description since you actually use two switches instead of one).
While I could list the steps required to do this, I believe the procedure is better explained with the video displayed below.
But before you watch it, I must ask that you read, understand and agree to my semi-standard disclaimer:
Important: As you probably know, doing any type of home electrical wiring task is an inherently dangerous thing.
If you aren't careful and/or don't know what you're doing you could end up getting yourself hurt (or worse) or possibly even burn your house down.
Therefore, if you decide to watch the video and attempt to complete the task detailed within it you agree that you'll be doing so at your own risk.
That means if Earth's gravity disappears and we all fly out into space, all the cats in your neighborhood don top hats and start smoking smelly cigars or you or your house go up in flames, it won't be the fault of your humble tech blogger (namely me).
If you agree with everything I said above, feel free to watch the video and wire up your 3 way switch!
As you can see, it isn't really all that difficult to wire up a 3 way switch. But that being said, if you feel the least bit uncertain about your ability to do the job safely I strongly recommend hiring an electrician to do the job for you.
If you're interested in learning how to correctly (and safely) complete a wide variety of home wiring tasks, I recommend that you check out this great book (#ad) at Amazon.
---
Cick here to ask me a tech question.