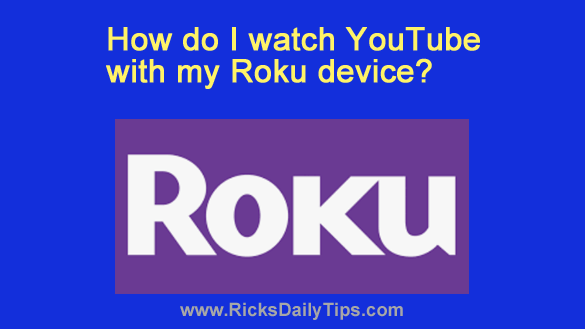 Question from Kathleen:  I recently bought a Roku device and I'm enjoying it immensely.
A co-worker told me she watches YouTube videos on her TV via the Roku but I looked through all the channels and I can't find it.
Can you tell me how to watch YouTube with my Roku? 
Rick's answer:  You can easily watch YouTube on your TV via your Roku device, Kathleen. Just follow these steps:
1 – Press the Home button on your Roku remote to display the Roku Home screen.
2 – In the left-hand pane, scroll down and select Search.
3 – Use the onscreen virtual keyboard to type the word youtube.
4 – Click on the YouTube logo after it pops up over on the right, then select Add channel.
Important: Make sure you select the channel that's simply labeled "YouTube", not the premium (i.e. paid) channel that's labeled "YouTube TV".
The YouTube channel will now be installed on your Roku device. You'll be presented with a confirmation message after the installation is complete.
5 – Select Go to channel to start watching YouTube right away.
That's all there is to it. You now have the YouTube channel installed on your Roku device and you can watch it any time you like.
---