Click here to sign up for my free Rick's Tech Tips Newsletter!
---
Fall is one one of my favorite times of the year, and with the first official day of autumn just over the horizon, many folks have begun planning their "leaf peeping" and fall photography activities.
If you plan to get out and photograph this year's fall colors, here are seven tips that can help you capture better images during what I consider to be the most beautiful of the four seasons: 
1 – Know when to expect the fall colors to peak in your area. It's very easy to let the most photogenic autumn leaves fall to the ground before you even realize the colors are at their peak.
Also keep in mind that the leaves "turn" earlier at higher elevations. If you wait until the leaves start turning in the foothills, you'll likely find that the ones up on the nearest mountain have already fallen to the ground when you finally make it up there.
2 – Use a tripod, or at the very least a monopod.
Shooting hand-held will get the job done, but if you want the flexibility that comes with using longer shutter speeds and experimenting with the exposure settings, you'll need to keep your camera perfectly still if you want to come away with tack sharp photos.
3 – When shooting an autumn landscape, clouds can be your friend. In fact, some of the best shooting conditions you're likely to find for capturing vivid colors occur on rainy days! Just be sure to keep your camera, lenses and other gear dry.
If at all possible, avoid shooting in the middle of a sunny day in order to avoid harsh contrasts and shadows.
4 – If you simply must shoot on a sunny day, take along a "circular polarizer" filter and use it to enhance and darken a bright blue sky while accentuating any white clouds that might happen to be off in the distance, but within the frame of your shot.
A polarizer filter will also help reduce glare and enhance the colors in the leaves.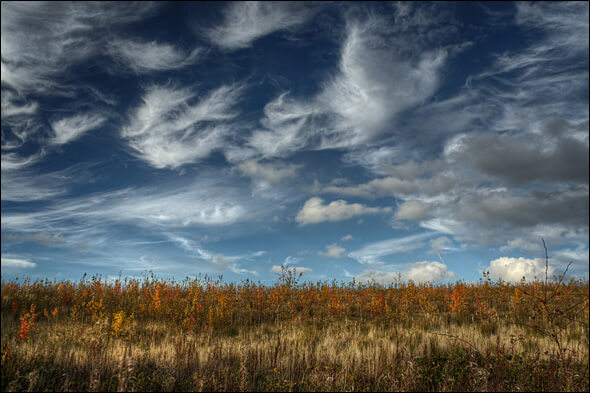 5 – Use fog and mist to your advantage. Some of the most striking fall images I have ever seen included some amount of fog and mist.
In addition to adding an element of atmosphere and mystery to your photos, fog also helps accentuate and/or mute the fall colors, depending on how you frame and capture your images.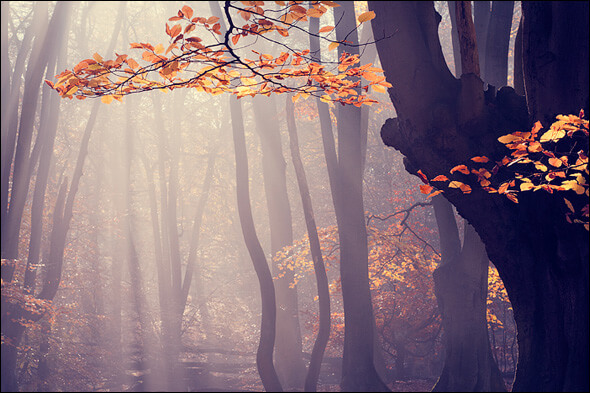 6 – The strategic use of water can add incredible beauty and depth to an autumn scene.
When shooting in the mountains, seek out small waterfalls where streams cascade down the mountain draws.
If you're shooting in a "flat" area, streams, ponds and rivers make excellent focal points for fall pictures.
On a related note, if you want to capture that silky, smooth "flowing water" look when shooting waterfalls, use a "neutral density" filter to reduce the amount of light that passes through the lens at a given aperture.
That will allow you to use the longer shutter speeds required to smooth out the flow of the water.
And remember my earlier mention of shooting on a rainy day? This is a perfect time to capture some gorgeous close-up images of water droplets on colorful autumn leaves!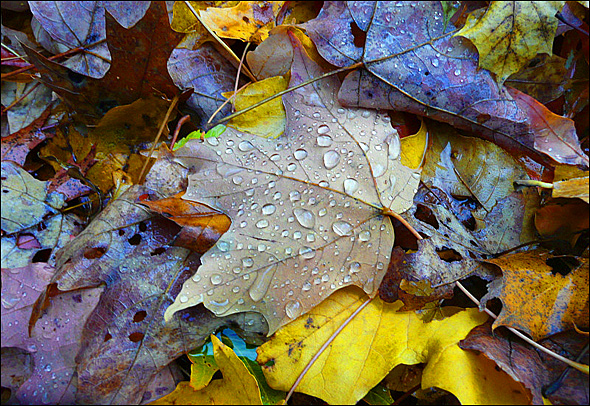 7 – You can still find some great fall colors even if you're nowhere near the mountains. In fact, visit most any city park or drive down a country road and you'll probably encounter several beautiful autumn scenes to photograph.
Bottom line: Autumn is one of the best times of the year for landscape photography.
To give yourself the best shot at coming home with some real keepers, plan ahead and take advantage of every photographic opportunity that presents itself in the coming fall season.
Bonus tip: This post explains why the 'Nifty Fifty' is my favorite camera lens.
Image credits (in order): Brian Smith, Andrew Birch, Lorianne DiSabato and Mathew Paulson.
---
Cick here to ask me a tech question.