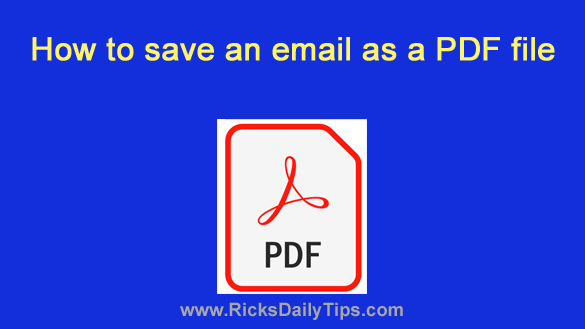 You probably know how to print important emails to create a hard copy record of the correspondence, but here's something you might not know…
You can also save emails as PDF files and then open them at any time in your default browser or PDF viewer. 
PDF versions of emails can also be attached to other emails or sent to someone via IM.
Truth be told, you'll be able to do anything with it that you can do with any other PDF file.
It's very easy to save an email as a PDF with most email clients and web-based email services.
For example, if you use Gmail or Outlook Webmail in a web browser, open the email you want to save as a PDF and click the three dots icon that's located in the vicinity of the email's date/time stamp.
Now select Print from the drop-down menu and select Save as PDF for the print destination.
If you use a local email client like Thunderbird or Outlook you should have a Print as PDF option available in the "Print" dialog as well.
After you have the newly-created PDF file on your computer's hard drive or SSD you'll be able to do most anything you want with it.
---