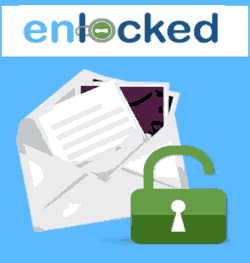 Much to the chagrin of the Postal Service, the number of emails sent each day far exceeds the number of "snail mail" letters sent during the same time period. And for good reason…
Instead of writing a letter, stuffing it in an envelope, putting a stamp on it, mailing it, and waiting to see if it ever arrives at its intended destination at some point in the future, you can simply type out an email, click "Send" and have it land in the recipient's inbox in seconds.
But the convenience and low cost (virtually free) of email comes with one major drawback: It is completely insecure. Since they are not encrypted, email messages can be intercepted and read at any "stop" along their digital routes.
As luck would have it, it's easy to encrypt emails before they are sent using most any of the major online email providers (Gmail, Yahoo Mail, etc.) with a browser add-on called Enlocked.
Follow the steps below to check it out: 
1 – Visit www.enlocked.com and click the Try Enlocked Now button.
2 – Enter your email address and a test message.
3 – Click the Send Secured button.
4 – Check your email account for a notification from Enlocked that you have been sent a secure email, then follow the directions provided in that email.
5 – If you like the way Enlocked works, open a free account and try the service out for real.
There are a couple of caveats to consider before using Enlocked:
1 – The recipients of your encrypted email messages must have the enlocked browser add-on installed in order to decrypt and read the emails you send to them.
2 – Although the Enlocked service is available for free, the free version allows you to send just 10 encrypted emails per month (but you can receive as many as you want for free).
If you only send a handful of emails containing sensitive information per month, the free version should be all you need. But if you want ALL of your emails to be secure you'll need to subscribe to one of their tiered plans.
If you like this post you can get my latest tips in my weekly RicksDailyTips Email Newsletter. Sign up for free at the bottom of this page!