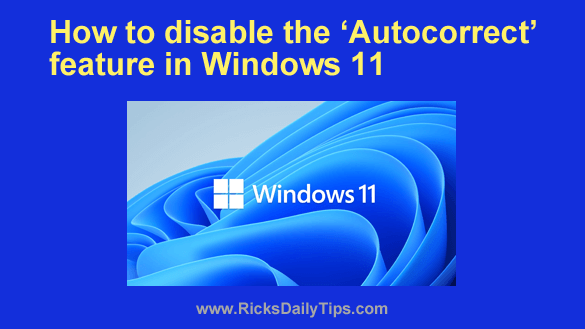 Like it's predecessor, Windows 11 has a popular feature called Autocorrect that monitors your typing and makes changes when it determines that you've made one or more spelling errors.
That sounds awesome, and most of the time it is. However, Autocorrect doesn't always do the best job at fixing your typos. 
In fact, it sometimes makes rather embarrassing mistakes itself by substituting a totally inappropriate word for the one you misspelled.
Personally, I prefer to proofread my own writing and manually fix any typos I find.
If you feel the same way, you can easily disable the Autocorrect feature on your Windows 11 PC. Just follow the steps listed below:
1 – Click the Start button, then type the word typing and select Typing settings from the list of search results.
2 – In the right-hand pane, toggle the "Autocorrect misspelled words" setting to Off.
That's all there is to it. From now on your misspelled words will still be marked with the little squiggly line but no changes will be made unless and until you make them yourself.
If you prefer visual instructions, the short video below shows how to disable Autocorrect on your Windows 11 PC, step-by-step.
Note: You can watch this video at full screen by clicking the little "square" icon in the lower-right corner of the video after it begins playing.
Bonus tip: The "Accessibility" section of the Settings app has lots of handy settings you can change to make your Windows environment work just the way you want and/or need it to.
I recommend that you scroll through those settings and check them out!
You can launch the Settings app by right-clicking on the Start button and selecting Settings from the menu that pops up.
---