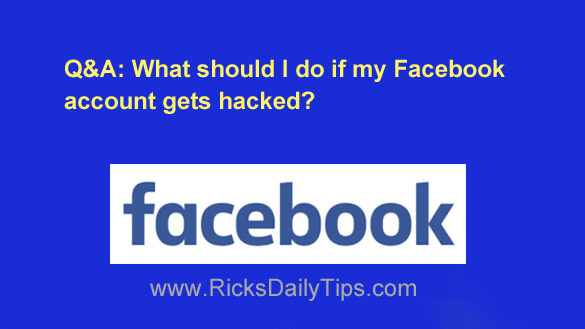 One of my Facebook friends recently asked me what a person should do if their Facebook account gets hacked.
I answered her in a Facebook post but then thought it might be a good idea to post it on the blog as well.
The first thing you need to do is determine whether your account has indeed been hacked, or merely cloned. 
Scammers are cloning accounts right and left these days and then using those fake accounts to do all kinds of malicious things, in your name.
That being said, while having your account cloned can be a hassle, it isn't anywhere near as bad as having it get hacked.
This post explains how to determine whether your account was hacked or cloned.
If you determined that your account has been cloned simply follow the steps listed in that post to resolve the issue.
However, if it was indeed hacked, read on for instructions for dealing with the hack…
Here are the steps I recommend for dealing with a hacked Facebook account:
1 – First, enable Two-Factor Authentication on the hacked account. This is the single most effective way to prevent future hacks, and it should really be enabled on EVERY Facebook account. This post explains how to enable it.
2 – Next, follow the steps in this post to choose a new password  for your account that's strong, yet easy to remember.
3 – Once you have Two-Factor Authentication and a secure password in place you should then remove any apps that are enabled on your account that you don't recognize or use. This post explains how.
4 – And finally, read this post for additional tips that can help you avoid having your Facebook account hacked again the future.
Bottom line: While it's impossible to be 100% certain that your Facebook account will never get hacked or cloned, the steps listed above can help you clean up the mess and prevent it from happening again in the future.
I hope this helps. Good luck, and stay safe!
---
Never miss a tip!  Click here to sign up for my free Daily Tech Tips Email Newsletter!