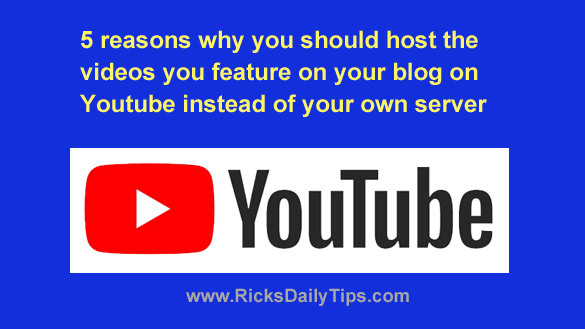 Do you feature videos that you've created yourself on a personal or company blog?
If so, you might think it's best to host those videos right on your blog server instead of elsewhere on the Internet.
Well, there are several important reasons why you would probably be better off hosting your videos on YouTube instead:
1 – You'll conserve your hosting plan's data allotment
Streaming video from your web server can cause your blog's visitors to burn through your hosting plan's monthly bandwidth allotment much faster than any other type of content.
Even if your hosting plan provides a generous allotment of several terabytes of data transfer per month, once your blog becomes popular it won't take long for just a few popular videos to use it all up.
That could result in either having your blog shut off for the remainder of the month or you having to pay a data overage fee every month.
If you host your blog's videos on YouTube it will be able to serve any number of visitors with virtually no effect on your blog's data usage whatsoever.
2 – Your blog pages will load faster and perform better overall
Streaming video can degrade your blog's performance, and if enough visitors watch videos at the same time it could even bring it to a screeching halt.
Videos that are served from YouTube won't slow your blog down at all because all of that data will be streamed from Google's servers instead of your own. And as I'm sure you've noticed, Googles' servers are extremely fast!
3 – It greatly simplifies the process of hosting videos on your blog
Streaming video from your own blog can be difficult to set up and maintain. And if something goes wrong on a technical level you'll have to either troubleshoot the issue and fix it yourself or hire an expert to do it for you.
On the other hand, embedding a video from your YouTube account into one of your blog posts is literally as simple as clicking Share>Embed and then copying and pasting the short snippet of code YouTube provides into the body of your blog post.
4 – Your blog will receive more traffic
Videos that are hosted on your own server will only receive traffic as a result of your own marketing and SEO efforts.
However, if you host them on YouTube you'll not only reap the rewards of your own marketing efforts, but those of the YouTube/Google infrastructure as well!
Have you ever noticed how often YouTube videos show up in regular Google searches?
Those videos belong to some third party (which could be you) instead of Google. And of course YouTube's own built-in search engine will send traffic to your videos as well.
If you take the time to implement an effective linking strategy on your YouTube postings your blog will soon start receiving lots of referral traffic directly from YouTube.
5 – You'll retain complete ownership and control of your videos
Although your videos will be hosted by YouTube instead of your own blog, you'll still remain firmly in control of them. You'll still own their copyrights and you'll be able to manage their availability right from your own web browser.
If you ever decide to take a particular video down for whatever reason you can simply log in to your YouTube account and delete it.
As you can see, there are several important advantages to hosting the videos you create on YouTube instead of on your blog's web server.
If you don't already have a YouTube account I recommend that you open one and start uploading your videos right away in order to take advantage of them!
Note: If you currently use Gmail or any other Google service, you already have a YouTube account ready and waiting for you to use it. Just head over to YouTube.com and sign in with your Google login credentials.
Bonus tip: This post explains how to enable Two-Factor Authentication on your WordPress blog to prevent it from being taken over by hackers.
---