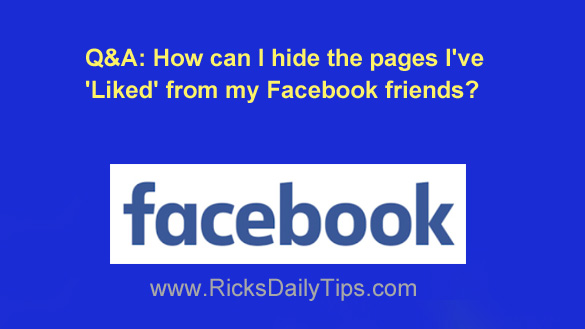 Question from Brenda H.:  I have a Facebook question that I hope you can answer for me Rick.
I have many varied interests so I "Like" a wide variety of pages, some of which I'd rather keep to myself and not let some of my Facebook friends know about.
Is there a way to "hide" those pages from my friends but still access them myself as usual?
Rick's answer:  Brenda, as far as I know there is no way to hide an individual page that you have "Liked", but you can easily hide entire categories of pages.
Therefore, you can hide the fact that you've liked a specific page from your friends by hiding the category that the page is filed under.
Alternatively, you can hide ALL the pages you have liked by hiding every category there is.
Either way, here's how to do it:
Note: This procedure can only be done when using Facebook in a web browser on a computer. There doesn't appear to be a way to do it via the Facebook app.
1 – Log in to your Facebook account and click on your name to display your Timeline page.
2 – Hover your mouse pointer over the word More on the horizontal menu (located directly beneath your cover photo), then select Likes from the drop-down menu.
3 – Click the pencil icon to the right of the Add Likes button, then click Edit the Privacy of Your Likes.
4 – Click the down arrow located at the far right of the first category that you'd like to hide, then click Only Me.
5 – Repeat step 4 for any other categories that you wish to hide.
6 – When you're finished hiding categories, click the Close button.
From now on your friends will never see anything regarding the pages that fall under the categories that you have hidden. They will never even know that you have "Liked" those pages.
I hope this helps, Brenda. Good luck!
Update from Brenda:  Thanks for your help Rick. I wish Facebook would allow us to hide individual pages but your solution is the next best thing. Love your blog by the way. Keep up the great work!
Bonus tip: Truth be told, true privacy really doesn't exist on Facebook. This post explains why.
---
Never miss a tip!  Click here to sign up for my free Daily Tech Tips Email Newsletter!