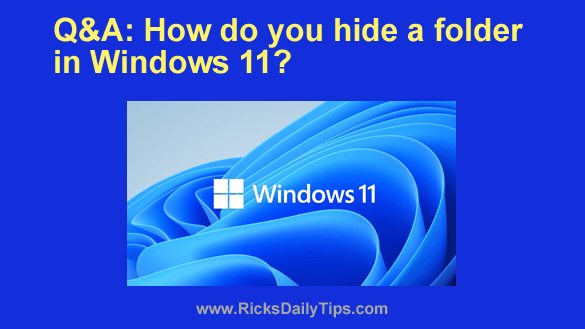 Question from Pauley:  I have a folder on my Windows 11 computer with files in it that I don't want to accidentally delete.
Is there some way to hide that folder so I can't accidently click on it and delete it?
Rick's answer:  It's actually very easy to hide a folder on a Windows 11 PC, Pauley. Here's a short video that shows how to do it. 
Note: You can watch this video at full screen by clicking the little "square" icon in the lower-right corner of the video after it begins playing.
If you prefer following written instructions, here you go:
1 – Right-click on the folder you want to hide and select Properties from the menu.
2 – Check the box beside Hidden, then click OK.
3 – Select Apply changes to this folder, subfolders and files.
4 – Click OK again.

Now that you've hidden the folder, you'll also need to know how to unhide it when you need to access it. Luckily, that's really quite easy to do:
1 – Open File Explorer and navigate to the drive and folder the hidden folder resides in.
2 – Click View on the top menu bar, then click Show>Hidden items.

That's all there is to hiding (and unhiding) a folder from view on a Windows 11 PC.

But now, I feel compelled to mention this important caveat:
Simply hiding a folder won't keep someone else with at least a basic knowledge of Windows from finding it.
Put another way, hiding a folder doesn't really secure its contents in any way. Enough said.

I hope this helps, Pauley. Good luck!
---