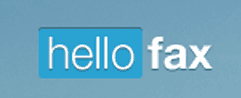 Most folks probably think FAXes are about as obsolete as Morse Code in today's digital world, but the fact is there are still times when we need to send and/or receive an occasional FAX.
But that doesn't mean we need to keep a physical FAX machine plugged in and waiting 24/7.
In fact, we no longer need a FAX machine at all in order to send the occasional FAX. Instead, we can use one of several popular online FAXing services.
I recently found myself needing to send a FAX for the first time in years, and since I had ditched my old FAX machine several years back I found myself scrambling to find a good online FAX service. One that really stood out to me was a service called HELLO FAX, so I decided to give it a try. 
I found HELLO FAX very easy to use, and within just a couple of minutes my FAX was on its way.
HELLO FAX lets you quickly and easily send FAXes through their simple web-based FAXing service. All FAXes transmitted via the HELLO FAX service are encrypted for your privacy and security, and the recipients of your FAXES will never know that you didn't send them using a physical FAX machine.
You can send up to five FAXes per month for free. If you need to receive FAXes or send more than five FAXES per month, you'll need to upgrade to an inexpensive paid account.
Click here to check out HELLO FAX for yourself!