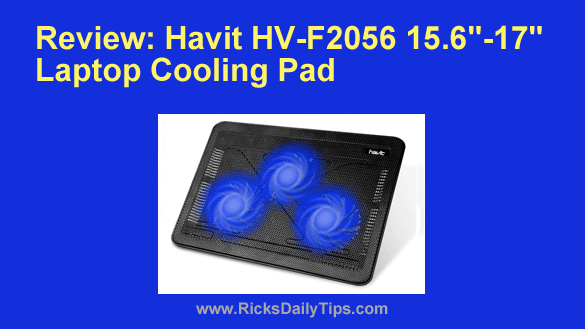 Note: The links in this post are affiliate links.
I receive lots of requests for help with laptops that are running hotter than normal, and in response I've written several posts dealing with laptop overheating issues.
While some overheating problems can be diagnosed and fixed, truth be told some laptops simply run hot and there's nothing you can do to prevent it.
However, many of the problems that arise due to overheating can be mitigated with the use of a quality laptop cooling pad.
These devices typically work their magic by using fans to blow cool air onto and over the bottom surface of the laptop.
This steady flow of moving air helps dissipate the heat that's generated by the CPU and other electronic parts that are constantly operating inside the machine's case.
The thing is, some cooling pads work better than others. In fact, some of the least effective models are little better than using no external cooling devices at all.
That being said, there are a few laptop coolers that do a great job a keeping overheating laptops operating within a safe temperature range.
I've tested a number of different laptop cooling pads over the years, and one that always comes out near the head of the pack even when compared against more expensive models is the hugely popular Havit HV-F2056 15.6″-17″ Laptop Cooling Pad.
This cooler first hit the market way back in September 2014 and it's still a top seller on Amazon and at other major electronics retailers.
The secret to its success is its three ultra-quiet, high volume fans that force plenty of moving air onto the bottom of most any 15-17 inch laptop.
Unlike the fans in many other USB-powered laptop coolers, the fans in the Havit HV-2056 produce a generous air flow while still providing a quiet (and therefore very pleasant) user experience.
This cooling pad also doubles as a laptop stand, complete with a built-in dual-port USB hub on the back for connecting additional USB devices to the laptop.
Havit lists the Mean Time Before Failure (MTBF) at 10,000 hours and they provide a 1 year warranty. However, I have three of these coolers and they're all still working great, including one I received way back in 2016.
Bottom line: If you have a laptop that tends to run hot, I recommend that you first try to find out if there's a hardware, software or malware issue that's causing the overheating and take steps to fix it.
But if your machine simple runs hot by nature (and many of them do), this awesome cooler will help dissipate the excess heat and keep your laptop running at a safe temperature and prevent premature component failure.
Click here to read more about the Havit HV-F2056 15.6″-17″ Laptop Cooling Pad at Amazon, including almost 30,000 overwhelmingly positive user reviews.
---