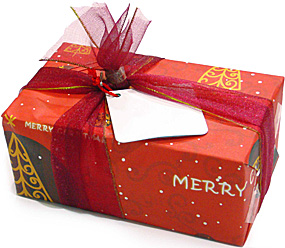 Have you ever received a Christmas gift that was the wrong size, didn't match the decor of your home, or you simply didn't like?
Virtually all of us have, and in some cases we ended up trying to return it.
Whatever the reason, returning a Christmas gift can sometimes be a hassle, especially if the gift is of the tech variety.
Here are a few tips that can help ensure that you can return unwanted tech gifts with the least amount of hassle possible:
1 – I'll start off with the most important tip of all: Be absolutely certain that returning the gift won't hurt the feelings of the person who gave it to you. If you have any doubt about that at all, it might be best simply keep it.
2 – Don't open the item's packaging unless you're pretty sure the gift is something you'll want to keep. Unopened items are usually a breeze to return, especially if you have the receipt – which brings me to tip number 3…
3 – Tactfully ask the giver(s) of your tech gift(s) if you can have the receipt(s). Don't say "in case I want to return it". Instead, say "in case I ever need to have it serviced under warranty".
I'm not saying you should mislead the giver about why you'd like to have the receipt. What I AM saying is many tech items WILL eventually need service, hence this is a legitimate reason for wanting the receipt.
Simply put, there's no need to broadcast the fact that you might end up not liking the item.
Bottom line: Many retailers won't even entertain the notion of accepting the return of an expensive tech item without a receipt.
4 – Before you crack open the packaging (literally, in many cases), determine the best method of doing so with the possibility of having to return the item in mind. Don't just go ripping and cutting with abandon.
After all, it's very important to make sure you'll be able to re-package the item with as little physical damage to the packaging as possible.
5 – Remove the batteries from the item before placing it back in the package.
If the batteries came with the device be sure to return them with it. If you purchased the batteries separately you can simply use them in a different device.
6 – When repacking items for return, don't leave ANYTHING out! This includes small incidental items such as strips of cardboard, plastic bags and twist ties.
And most important of all, don't forget about the cables, CDs/DVDs and manuals! And try your best to put everything back in its original place.
7 – If you return an item that has been opened, prepare to forfeit up to 25% in the form of a "restocking fee". Not all retailers charge restocking fees on returns, but some electronics retailers do.
And now, this…
When Christmas morning finally arrives, enjoy the day, enjoy your family and friends, and remember the reason why we celebrate Christmas in the first place!
Merry Christmas everyone!!!
Bonus tip #1: Amazon has what's probably the most liberal and hassle-free return policies of all retailers, both online and local.
That's just one of the many reasons why I recommend purchasing your electronic items at Amazon. Read this post to hear about the rest of them.
Bonus tip #2: Want to make sure you never miss one of my tips? Click here to join my Rick's Tech Tips Facebook Group!
If Facebook isn't your cup of tea, I invite you to sign up for my Rick's Daily Tips Daily Update Newsletter.
---
Want to ask Rick a tech question? Click here and send it in!
If you found this post useful, would you mind helping me out by sharing it? Just click one of the handy social media sharing buttons below.