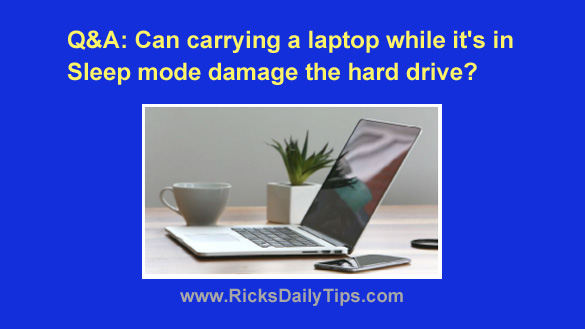 Question from Larry:  I just bought my first laptop and I have a question about it.
When I close the lid it goes into Sleep mode. Is it safe to carry it around while in Sleep mode or should I shut it down completely?
I've always been told never to move a computer that's powered up or it'll damage the hard drive, and a sleeping laptop still has power, right?
As you can see I'm confused LOL. Looking forward to your answer.
Rick's answer:  Larry, the short answer to your question is no, you won't damage the hard drive in your laptop if you carry it around while in Sleep mode.
When a computer is placed into Sleep mode, the only components that are left powered up are the ones needed to keep the current operating environment alive and "wake" the laptop up when you're ready to use it again.
As a general rule, the hard drive and all other non-essential components are either powered down completely or placed into a very low power mode.
To be a little more specific, while your laptop is in Sleep mode the platters in the hard drive stop spinning and the read/write heads are parked (i.e. pulled back into a "safe zone") to prevent damage to either the heads or the platters themselves.
Bottom line: You can pick up your sleeping laptop and carry it anywhere you wish without having to worry about damaging the hard drive.
I hope this helps, Larry. Good luck!
Bonus tip: There are times when it makes more sense to put your laptop in hibernation mode instead of sleep mode. Read this post and this post to read all about it.
---