If you're like me you've probably grown used to seeing the green "Secure" indicator in the address bar when you visit a secure website with the Chrome web browser.
That simple word "Secure" and green padlock gives me a warm, fuzzy feeling about the websites I visit because I know that any information I might supply to them will be encrypted before it's transmitted across the Internet to their server.
Well, here's a little heads-up: Google will soon be eliminating that comforting "Secure" designation from Chrome. 
Their stated reason for this change is they want everyone to assume that the website they're visiting is secure unless Chrome marks it as insecure.
This change is scheduled to take place when Google releases Chrome 69 in September 2018.
Personally, I have mixed feelings about this.
While it's true that the majority of websites that are publicly available on the web today are in fact secure, many are still not.
And since users always expect to see that green "Secure" indicator in the address bar I believe many of them will quickly hit the "Back" button when it fails to show up.
That means a lot of secure websites and blogs (like this one) will see a drop in traffic and reader engagement for at least some period of time before users adapt to Chrome's new way of doing things.
Luckily, Google is planning to keep displaying the green "Lock" icon in the address bar for the time being.
However, they're planning to remove the green lock as well at some point in the future as you can see in this screenshot from Google's blog post showing the timeline for the changes mentioned above: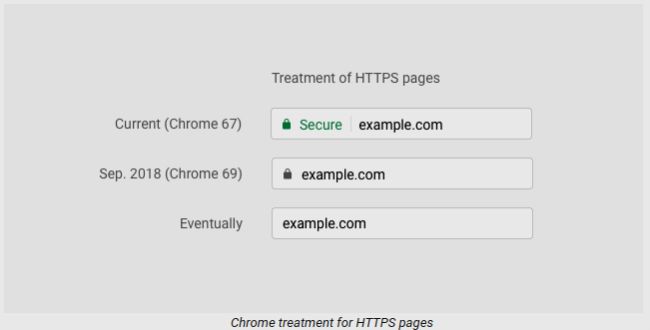 Bottom line: This change is coming, and it won't be all that long before secure websites won't be marked with any security indicators at all in Chrome.
What's more, since other browsers typically follow Chrome's lead with things like this I expect Firefox and the other major browsers to eventually do the same.
Bonus tip #1:  This post offers 9 tips to prevent your WordPress blog from getting hacked.
Bonus tip #2: Want to make sure you never miss one of my tips? Click here to join my Rick's Tech Tips Facebook Group!
---
Want to ask Rick a tech question? Click here and send it in!
If you found this post useful, would you mind helping me out by sharing it? Just click one of the handy social media sharing buttons below.