Question from Helen C.:  My son is going to be taking a photography class next semester with an eye towards eventually become a professional photographer.
He needs a DSLR camera to get him through this class, and hopefully beyond. I'm planning to buy him one for Christmas and I need some advice.
I really don't know that much about cameras in general, and virtually nothing at all about the DSLRs that are currently on the market.
Can you recommend a good, but relatively inexpensive DSLR that would be a good choice for a photography student?
If possible, I'd like to get something for around $600 or less, and a few included accessories would be nice (yeah, I'm a dreamer lol).
Thanks for your help in advance. (Love your site by the way!!!)
Rick's answer:  Helen, there are a number of very good DSLRs in the $600 price range, but I believe one of the best deals going right now is this Canon EOS Rebel T6 DSLR camera and accessory bundle. (#ad)
As of this writing the entire bundle is less than $600, and the shipping is free when purchased through Amazon. It's a pretty nice bundle too!
This is what your son will receive in the package:
A Highly Rated Canon EOS Rebel T6 DSLR Camera
A Canon EFS 18-55mm Zoom Lens
A Canon EF 75-300mm Zoom Lens
A Canon 500mm f/8 Telephoto Preset Lens
A Commander Flexible Spider Tripod
A Commander Monopod
A Sandisk Ultra 32GB SDHC Memory Card
A Slave Flash Unit
A High Quality Camera Shoulder Bag
Several Filters and Other Handy Accessories
If you prefer a visual inventory, here's a photo that shows everything that comes with this bundle: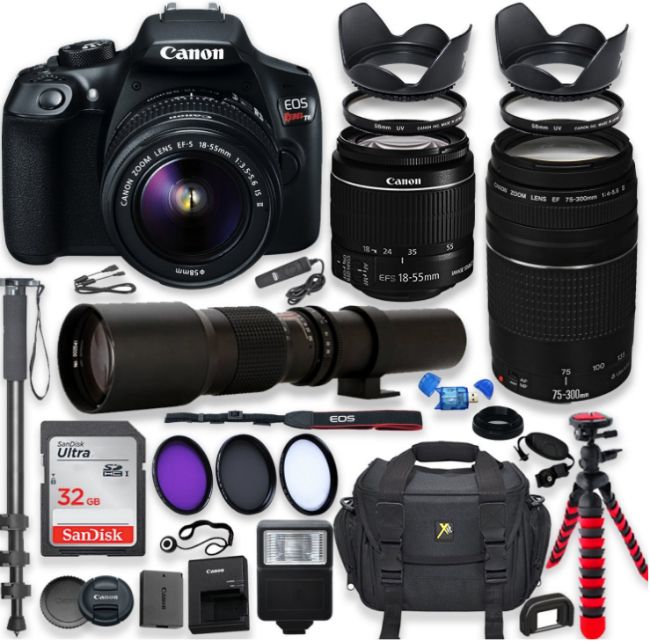 As you can see, your son will receive pretty much everything he'll need to successfully complete his photography class and get started on a fantastic career in photography.
Of course you can buy a camera and all the necessary accessories separately if you wish, but this bundle offers plenty of bang for your Christmas bucks!
Click here (#ad) to read more about this great deal on a Canon EOS Rebel T6 bundle at Amazon.
Bonus tip: Want to make sure you never miss one of my tips? Click here to join my Rick's Tech Tips Facebook Group!
Notes: The prices on Amazon change frequently so any prices and/or savings mentioned in this post might not be in effect by the time you read this.
---
Would you like to ask Rick a tech question? If so, click here and send it in!
If you found this post useful, would you mind helping me out by sharing it? Just click one of the handy social media sharing buttons below. Thanks a bunch!